We travel in many ways. Everyone has different needs and priorities, but nevertheless, to travel by motorbike is different from any other means of transportation. For that, everyone pretty much needs the same set of stuff you need to place on your bike that somehow has always too little space, and you need to securely fasten them, and they also need to be waterproof. Also, it's a plus if the 2-3 luggages don't cost as much as the motorbike itself.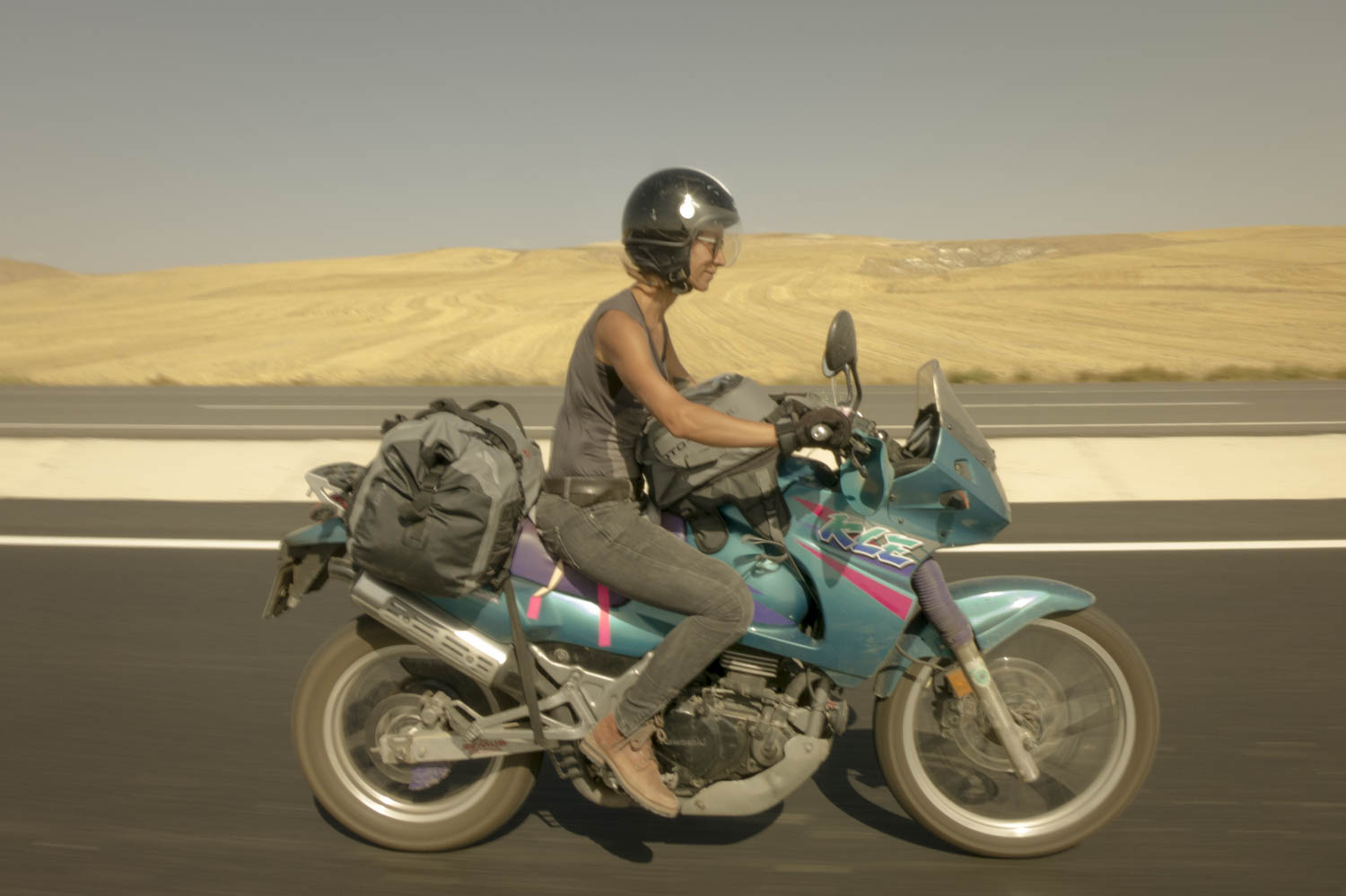 Cool chic, cheap bike, soft bag - comfortable and simple for long term! Bonus track: duct-taped folded scarf to prevent pain in the ass. Literally.
Back in the days the solution was so much simpler: either you had some sort of universal leather or army bag, or if you or a friend of yours felt up for the challenge, you assembled some sort of DIY case system. If you were cool enough, you'd fold something from aluminum, if not, you'd build your own motor luggage reusing suitcases or ammo boxes.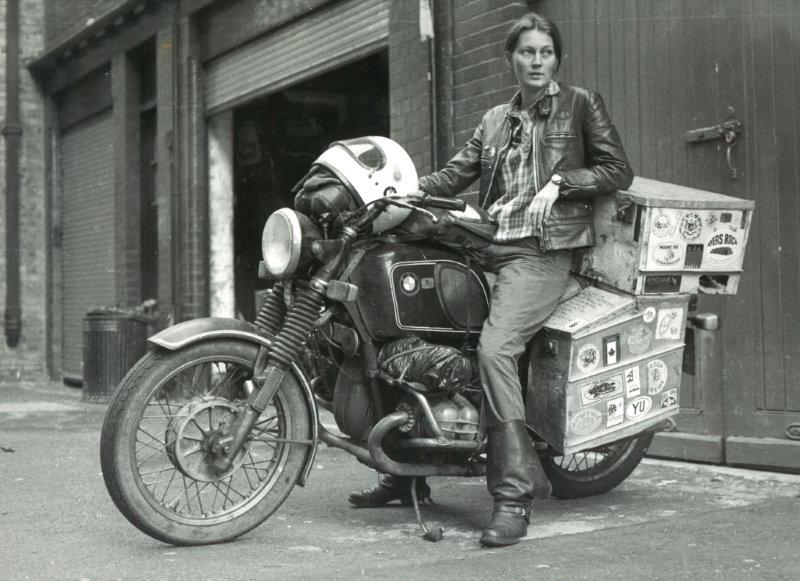 Elspeth Beard and her homemade alu cases she went around the World with from 1982 to 1984.
DIY
Many things can be used to make your own if you don't want to spend a fortune on overpriced motorbike accessories.   
People basically use any (s)crap they can find to make their own bags, from plastic barrels to fuel or trash cans. They aren't necessarily beautiful, but they do the jobs sometimes just as well as their expensive alternatives.  
As motorbike touring slowly transformed from a must-do activity to a hobby, so did a massive industry arise not only to serve the needs anymore, but to generate new ones to make riders buy more and more products. It's not very surprising though, we've seen this everywhere, from  the smartphone ecosystem to owning pets. We can whine all day about this terrible monster that fucks us over, or we can just put the energy into thinking a little harder about what to buy and what not to buy. Or look at it this way: the profit they make goes into further R&D to make even better stuff to make our lives even more comfortable.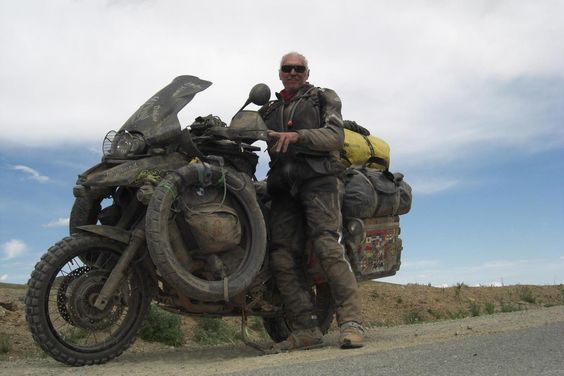 I don't personally know the dude, but I bet he doesn't need all of this.
I distinguish two basic types of riders. With this I'm well aware that I'll earn the rage of many-many riders, but if I ever want to finish this post not only to start, I have to simplify things.

So there are the ones that are well off and wanting to spend on whatever they like from the fancy product catalogs - regardless they need it or not, and the ones, that are not-so-well-off, or simply hate that people want to brainlessly sell them anything.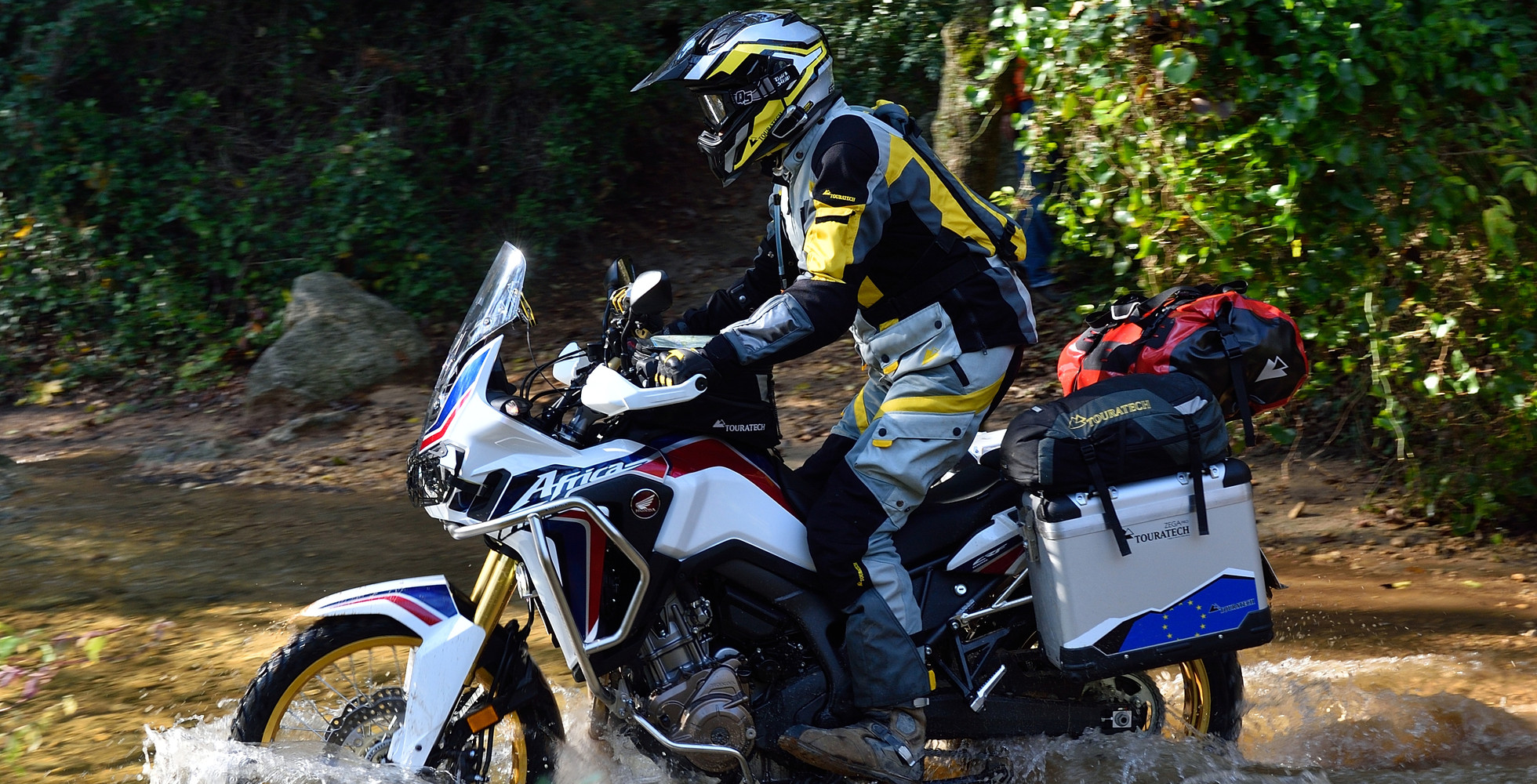 Only on a Western-European or American highway will they consider you not fully retarded in an outfit like this, anywhere else expect to pay 3x as much for anything. To stand out is expensive, get a little dirty at least!

Within this latter category there are the ones that hit mostly the asphalt, and the ones that like the adventure on endless roads. Because of that, there is one who likes it hard, and the ones that like it, well, soft.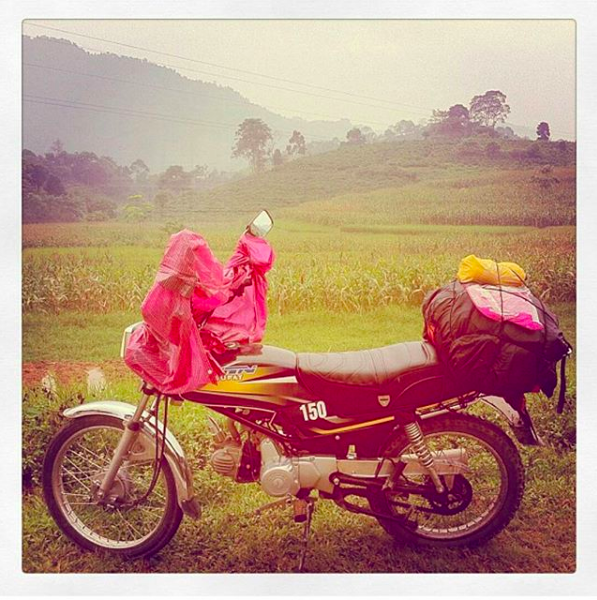 No need to overdo. This was my gear when I did North-Vietnam. Instead of plexi, my protection against cold was a rain jacket.
Only hard
If you are touring on asphalt, or you're a sport tourer, your life's simple. Chances are that you can get a plastic case designed specifically to your motorbike from the producer, that is easy to clip on and off with a simple movement. There is really no better choice than that for you. Lightweight, practical, easy to use. These new plastics can really endure. I fell with my 230+ kg GS many times both on asphalt and dirt roads with the boxes on. They are not shiny anymore, but they never broke.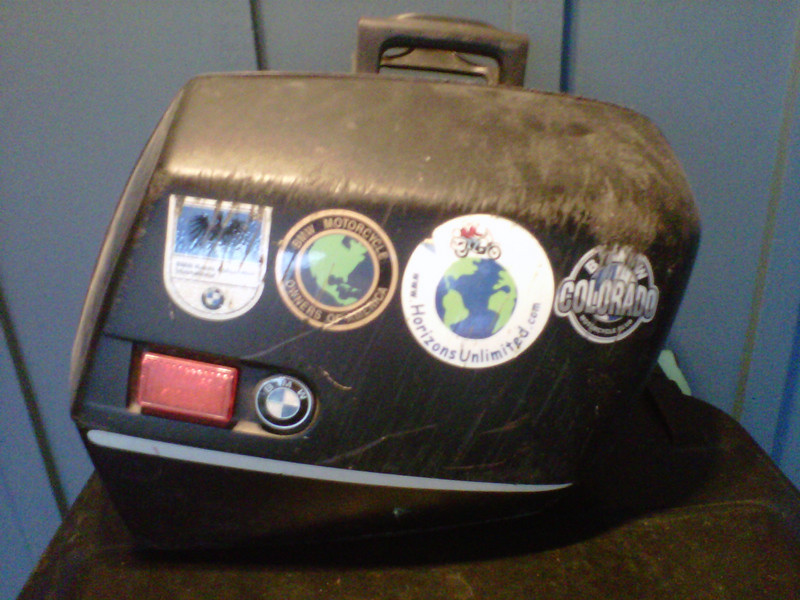 Not that pretty but intact. (not mine)
One of them is not perfectly waterproof anymore, but no biggie. There is an abundance of how-tos on repairing the broken parts even on the roadside - though I luckily never had to do that. And you can always cover the scratches with cool stickers. The new varios are a completely different world though. If you fall over and the inner mechanic gets damaged, then it will either wobble forever, or it will get stuck in one position, completely losing it being vario, and most likely it will leak the water as well.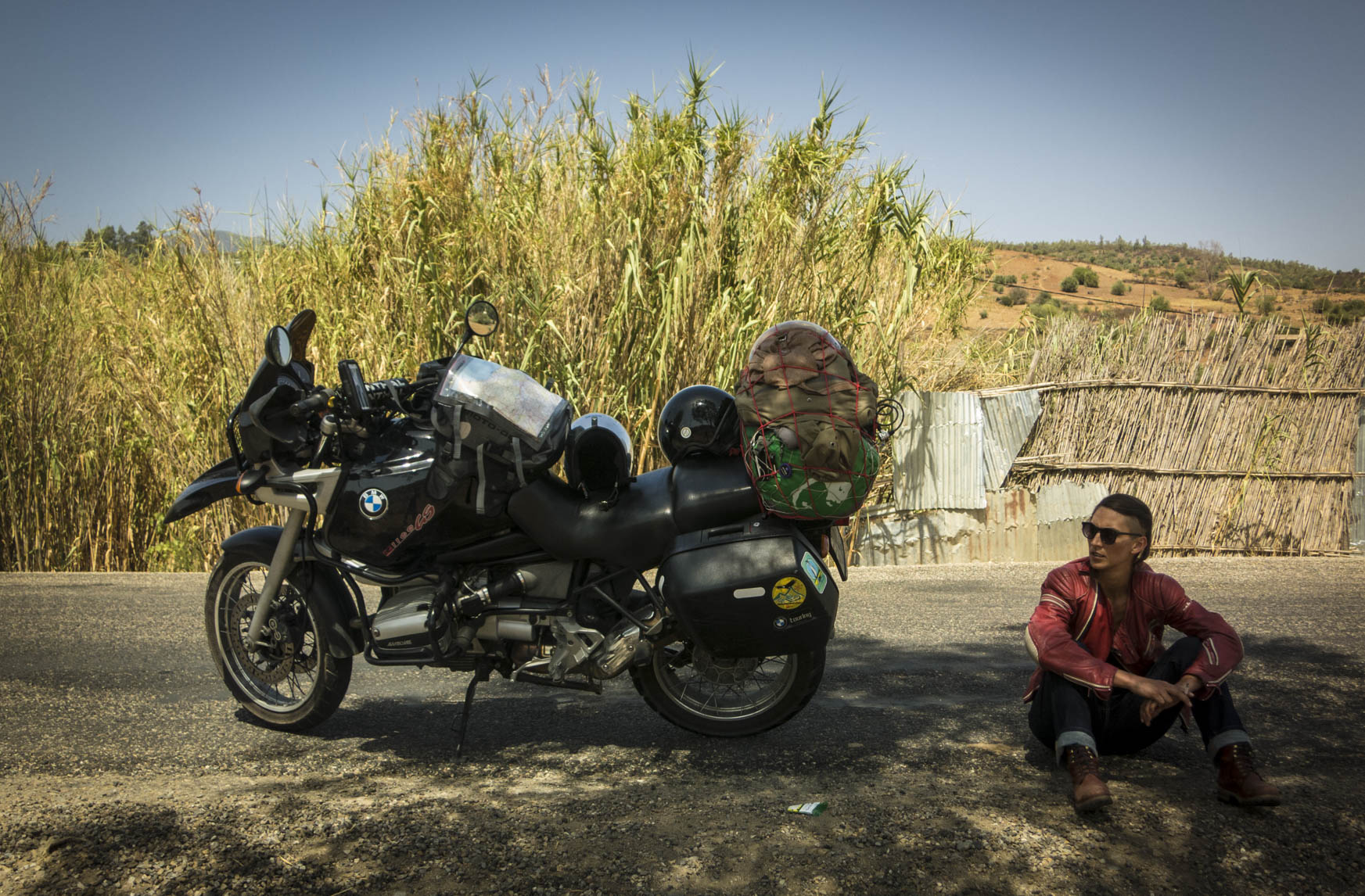 Stuff for two for 6 weeks. Budapest - Morocco - Budapest. One of the bags was full of winter clothes we only used on the very last day.
When you're only dreaming about touring you see yourself in gear tip to toe on a gigantic bike equipped with alu cases as you ride through the desert leaving only the dust behind. And many people do it exactly that way.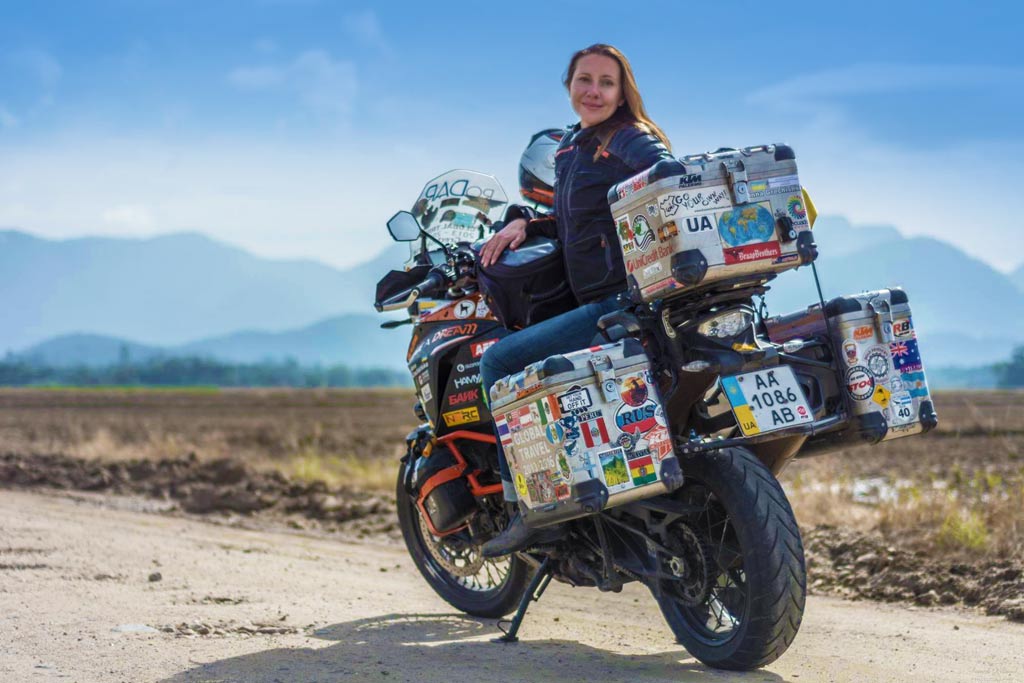 Anna Grechishkina is finishing her near 4-years round the world trip one of these days.
Those roll out of the salon with their selected extras that can fit half their apartments, and they hit the road with their dudes for a couple of days. All of this is super cool, their insta game is hot as hell, everyone's awesome. Then they can think about how half of the stuff they brought they haven't even touched, and the bike was way too overweight. But of course, as long as there's space, we pack things, why not.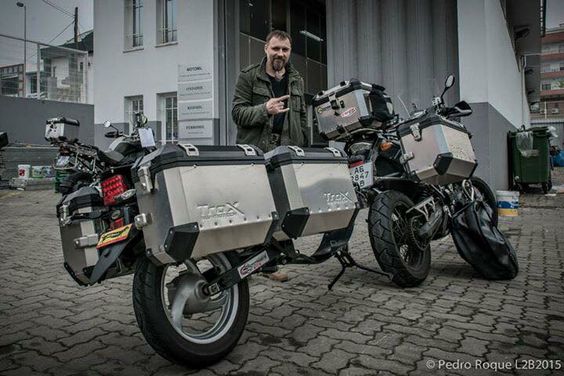 My deepest condolences to this poor guy :(
Who goes offroad avoids plastic, and usually doesn't like alu that much either, but some believes in metals strongly. Truth is, everyone loves it until the first fall. Even after you somehow manage to hammer it until it resembles its original shape and you convince yourself that this alu case is still ace, you will get the cold shower with the first rain when you figure, the stuff is not waterproof anymore.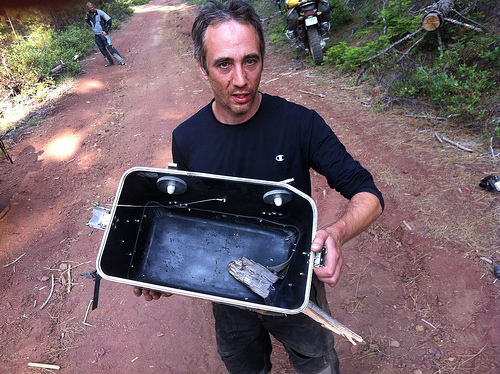 Lost case...
The soft ones
The ones going on longer tours, in the 10-20000 km range almost never use plastic, and the distribution between alu and soft bags is roughly half-half. In my personal experience and also from the blogs I follow, I see that people tend to switch from alu to soft bags along the way.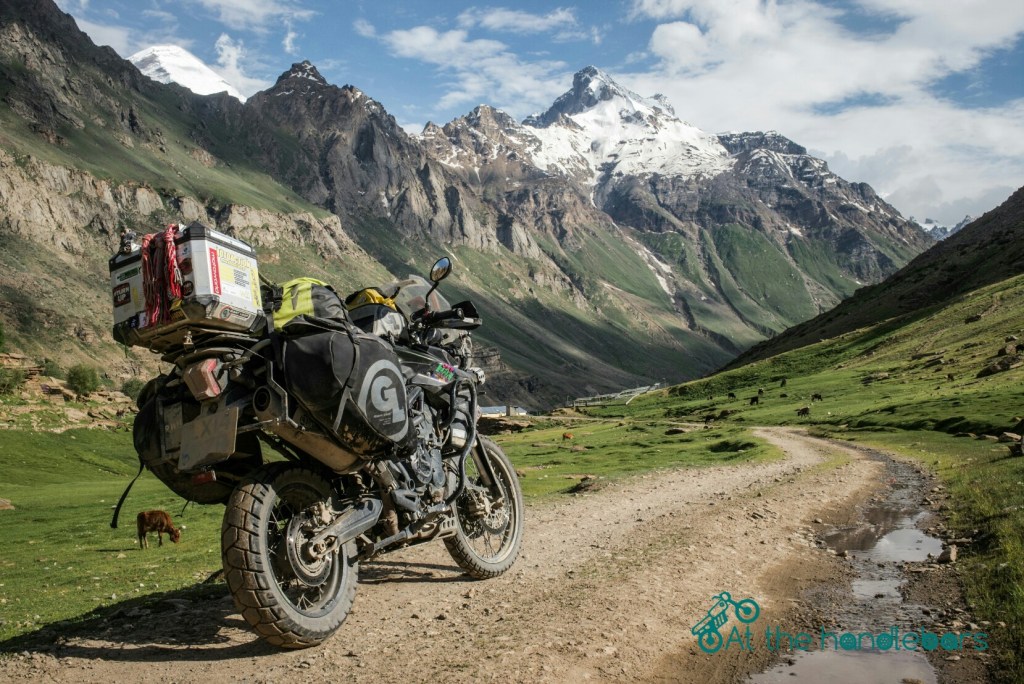 Dutchie is an Aussie world traveller. He was also switching along the way ( atthehandlebars.com )
Pros + Cons
Hard case
Pros
Multi-purpose: can be used as chair, table or wardrobe while camping
Repairable:  sometimes yes, sometimes less.
Appearance: a cool cowboy never goes without a cool holster...
Protection: Some believes they can serve as protection for the legs in an accident. My leg for example was stuck under it during a maneuver, but of course it could come in handy.
Safety: The lockable box is safe of course, nobody can randomly access it.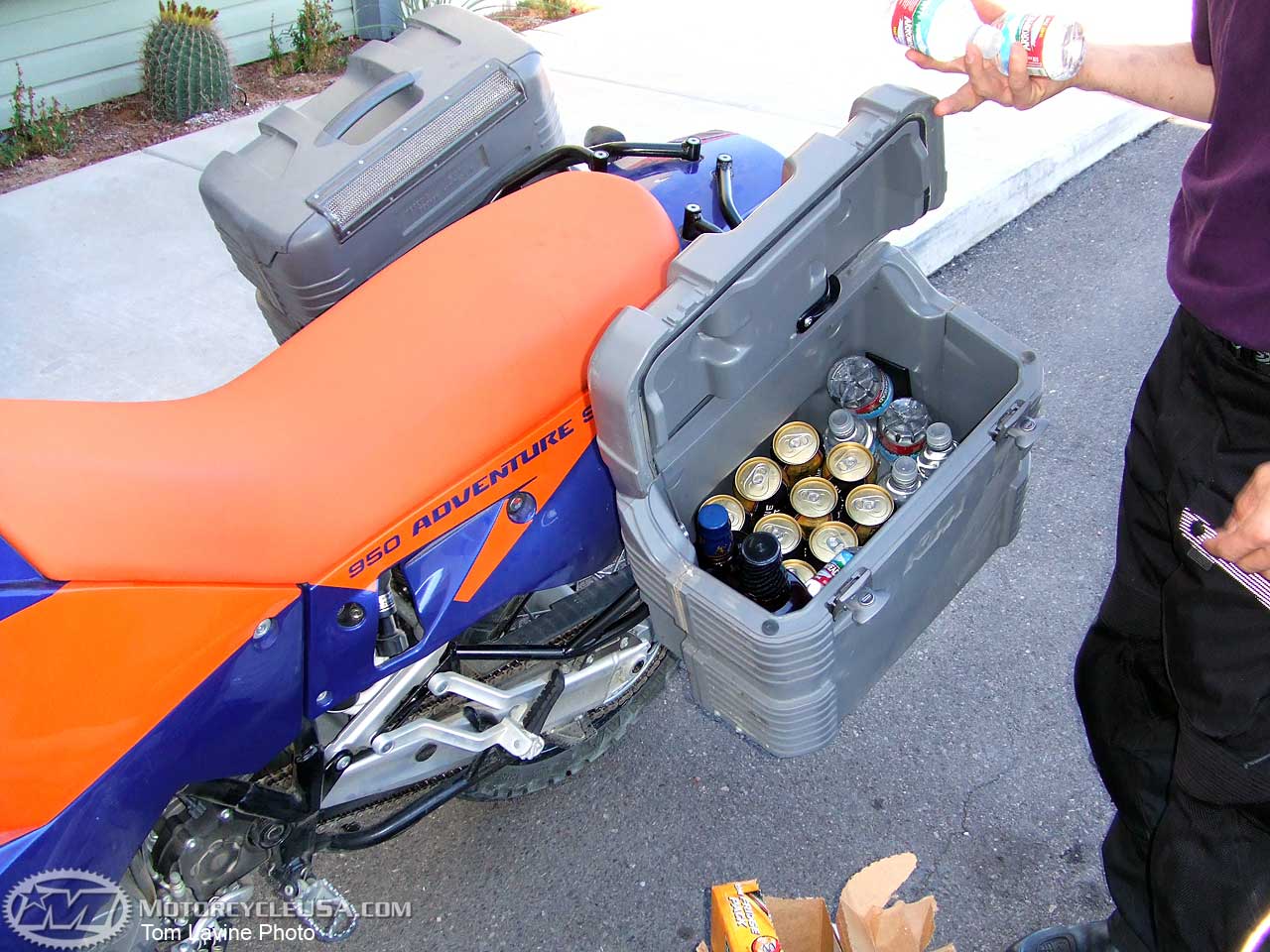 Undoubted advantage
Cons:
Weight: A professional case system alone can mean an extra 15-20 kg load.  
Width: The universal cases are often broader, than the handlebars. Needless to mention the inconvenient situations this can lead to if you don't pay attention.
Price: An alu case system can amount to 800-1000 EUR.
Compatibility: The cases are usually universal, but each motorbike needs a different rack to go along with them.
Vibration: Alu cases tend to vibrate with the same resonance as your bike. So your electrical equipment (laptops, cameras and the likes) are in for a shaky experience.  
Soft bags
Pros:
Price: Even the best quality soft bag system costs 500 EUR tops.
Compatibility: You can often use them without a rack, but definitely no need to buy a brand-specific rack.
Weight: One bag weighs less than 1-1,5 kg alone.
Water resistance: There are some cool new technologies and innovations in materials: with PVC, cordura, ballistic nylon, ultrasound stitching etc. these bags are completely waterproof and easy to repair. They are usually layered, so it's enough to carry only the inner one to the accommodation, and not to make a mess with the dirty external one.  
Mountability: How difficult it is depends on the brand's own system, but for sure you won't need screwdrivers and other heavy duty tools to mount them.  
Safety: Chances are, it won't bruise your legs if your ankle gets in between the bag and the road -  unlike its metal or plastic equivalent. Unwanted hands can access it easier, but there are ways to avoid that too.
Flexibility: If they are not fully packed, they take up less space, squeezable.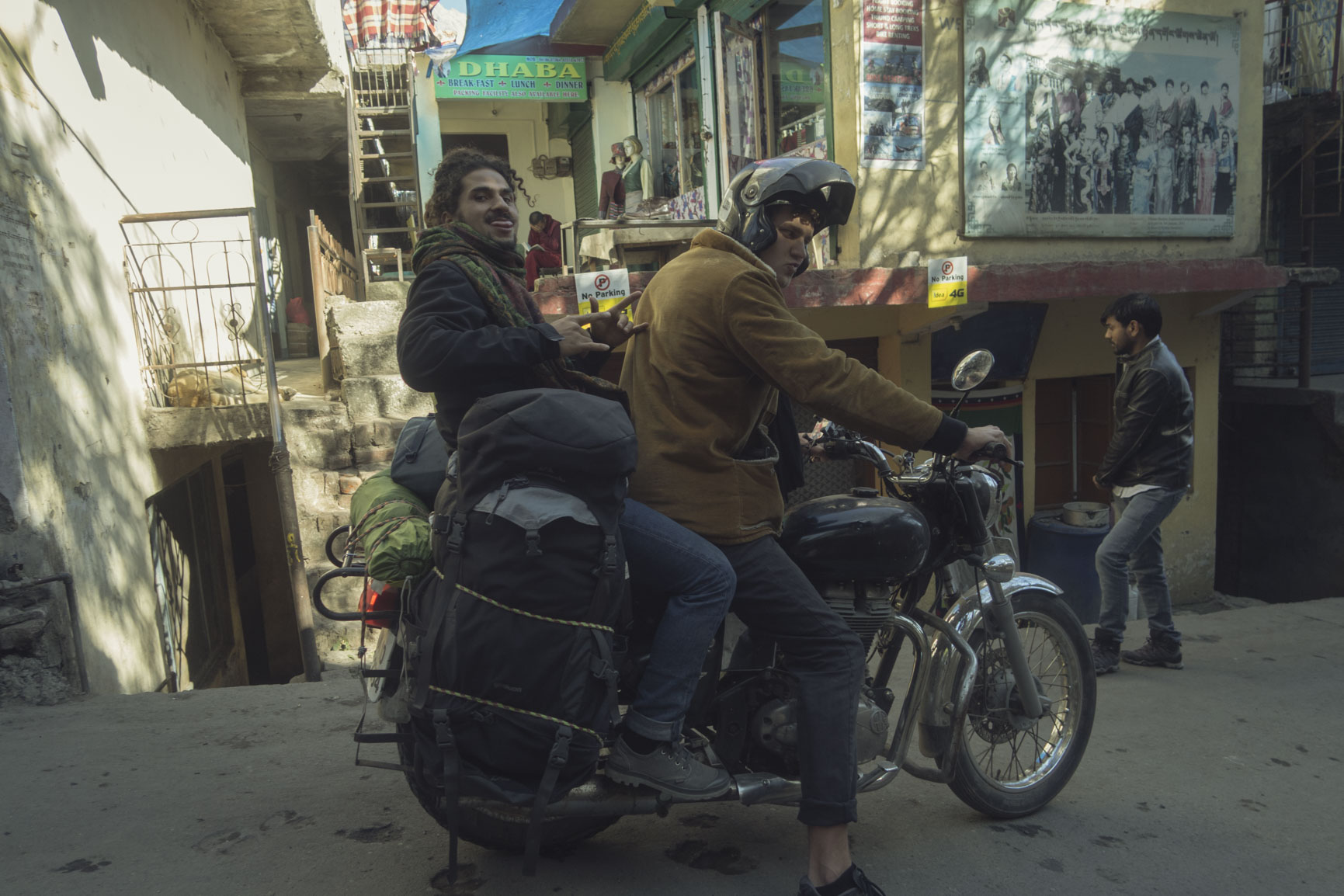 I met this Aussie guy and his Indonesian friend in India. They didn't break a nerve on figuring out this whole luggage-mounting shebang. Neither did they have a driver's license. Flawless.  
Cons:
Stability: If you don't mount it tight, it will bounce. Like a lot.
Reliability: The weak points of lower quality bags are zips and seams. Don't buy a bag with visible zips! If you don't pay enough attention to mounting, you can easily burn your stuff with the exhaust.
Safety: If you don't buy a pacsafe net, anyone can open them.
Now that I objectively collected all the pros and cons in the know-it-all boxed area, I'll share some of my own learnings, that are mine, so obviously not universally valid. But I can ensure you, my choice of gear was based on many different types of tours, and now after 4 months and 15 000 km behind me, I still think it was the right one.
Soft vs hard
I've been travelling for more than 10 years now, all around, and always with a backpack. This is beneficial, because I've learnt how to pack. This means, I always pack so I can fit into a carry-on. I need this for two reasons:
First, I never know, where exactly I'm going to, where am I gonna live, so I can't afford the luxury of the airline company losing my luggage and sending it to me with a couple days delay.
Second, I usually rent a motorbike on spot, and a smaller bag can always be mounted to any motorcycle - in one way or the other.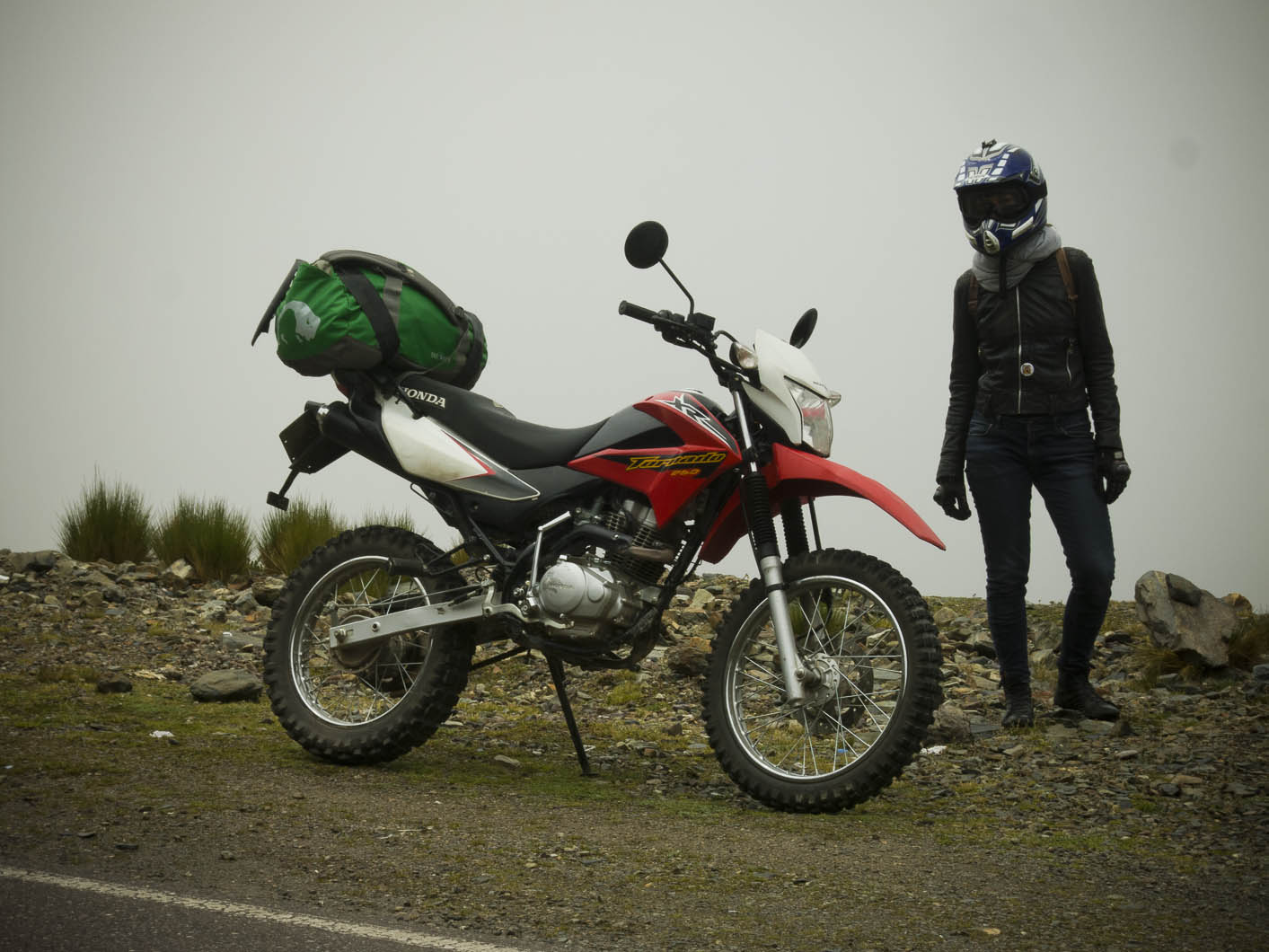 Regular 45l carry-on bag. Enough for two for 4 days in Peru. In exchange, all our body parts were frozen. Mounting: knot made with an inner tube cut in half.

I voted for soft bag. And luckily, money didn't play a role in that. Not because I'm filthy rich, but because the SW-Motech sponsored me kindly, and they told me I can choose whatever I want. So I asked for everything I liked, and they sent me even more stuff, so even my girlfriend got a bag we could test.
I like soft bags also because weight is important for me, and also, I honestly didn't feel like hammering aluminum or struggle applying resin on plastic on the roadside. I knew I was gonna go to some impossible places, where there won't be anyone to help when the bike needs to be repaired or being pulled out from some hole on the roadside.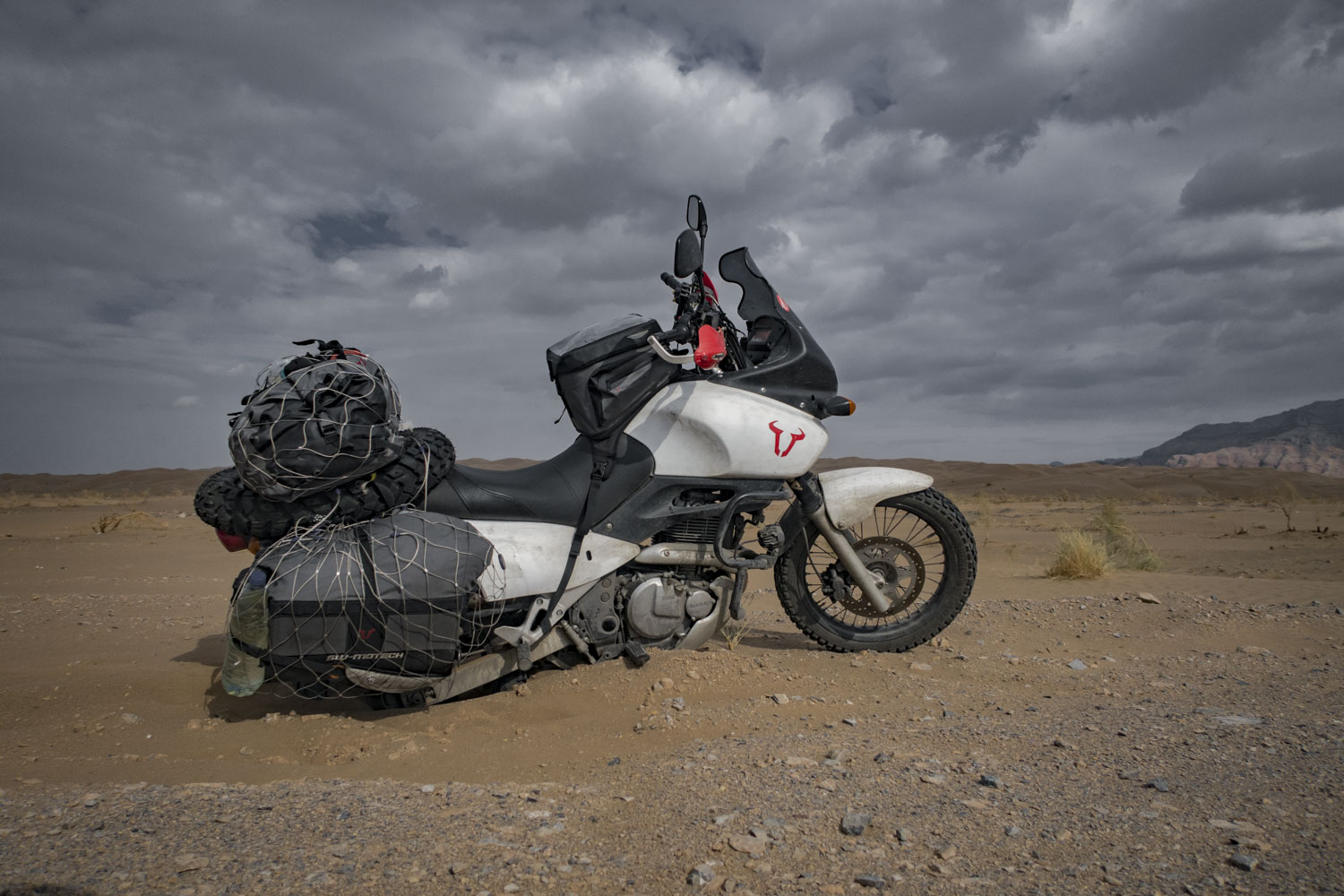 A typical example for when 15-20 kg extra weight matters. (Dasht-e Lut desert Iran)

My two saddle bags are made of cordura on the outside, and it has an inner waterproof insulation. 90% of the content in these bags are things I won't need every day. In the left one I keep stuff for camping I'm hoping I'll never have to use, along with spare inner tubes and tools for changing tires. Needless to say, the best would be never to touch any of these. So far so good… In the right bag I keep spare parts, winter clothes and rain protection. I mostly leave these in peace too.
It's quite a pain in the ass to perfectly mount the bags, but once you crack the code on the perfect technique, they stay perfectly still. In exchange, they are fastened on 4 places each, so you won't be finding yourself wanting to unmount them very often. I only had to do that three times in 6 months. I also put a pacsafe net around them, so 99% of times I leave them locked on the motorbike for overnight.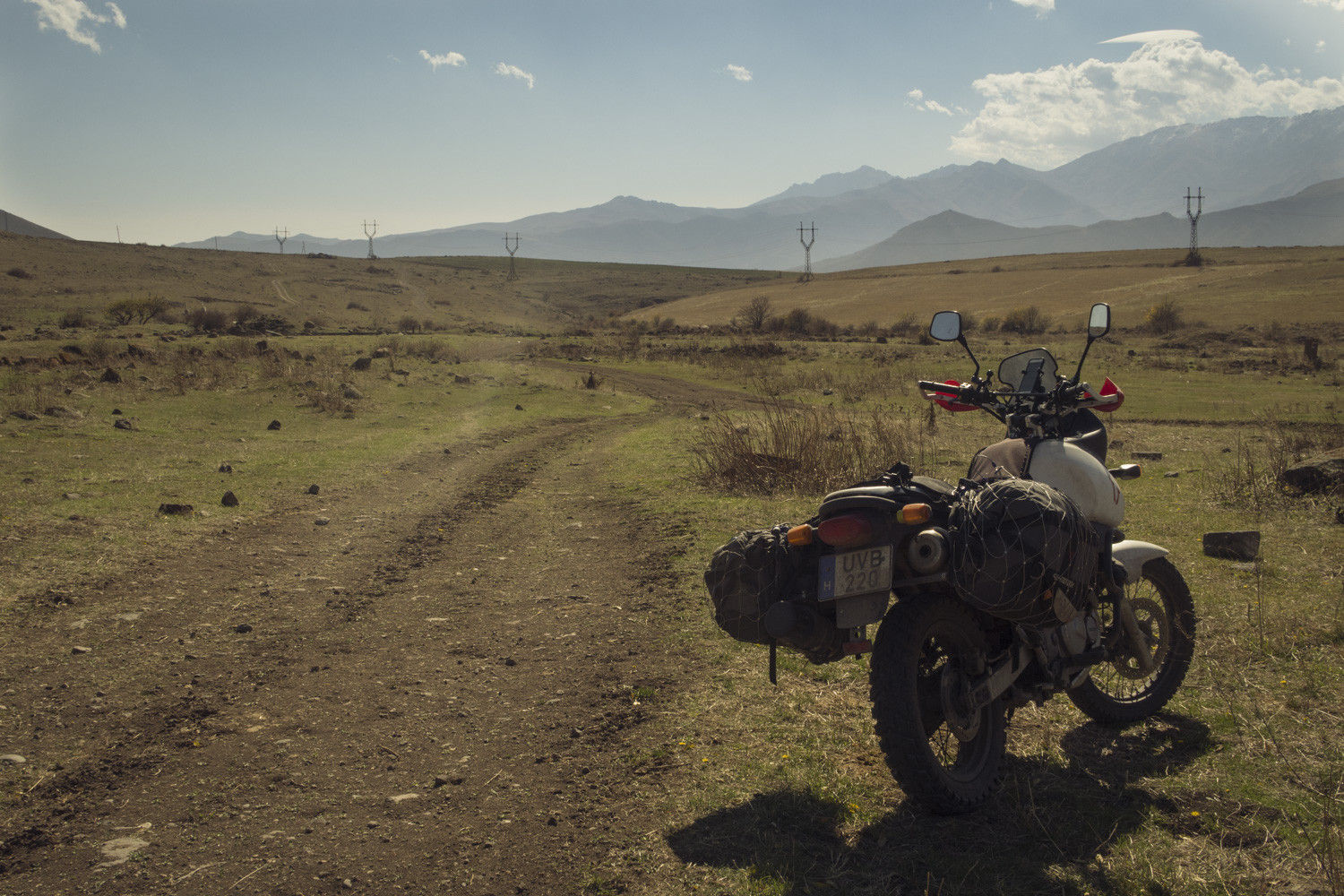 The two saddle bags are almost never unmounted.
It's been enduring the falls and bends quite well, but not so much the traffic in India. One was partly torn off by a truck, the other got tangled with a taxi. They lost their handles on both sides, but I took them to a bag repair place in Delhi, and an hour and 400 rupees (5€) later they were better than new.
Dry bag: this contains the stuff for everyday use. Clothes I wear, laptop, an extra pair of shoes etc. This bag is on the rack in the back. This is a regular, waterproof 60l bag. A little bit bigger than the one I used to travel with (45l), but the 35l one was unfortunately too small. This bag is almost half empty. I tried, if I really wanted to, I could squeeze my stuff into the smaller one, but since I carry and mount it daily, I decided it's better if it's half empty and weighs about 10kg. If need be, I pull a pacsafe net over this as well, and then I can leave it on the bike. To mount this bag I used only 2 rok straps, and it takes about 1 min to mount and unmount, and it stays still as a rock.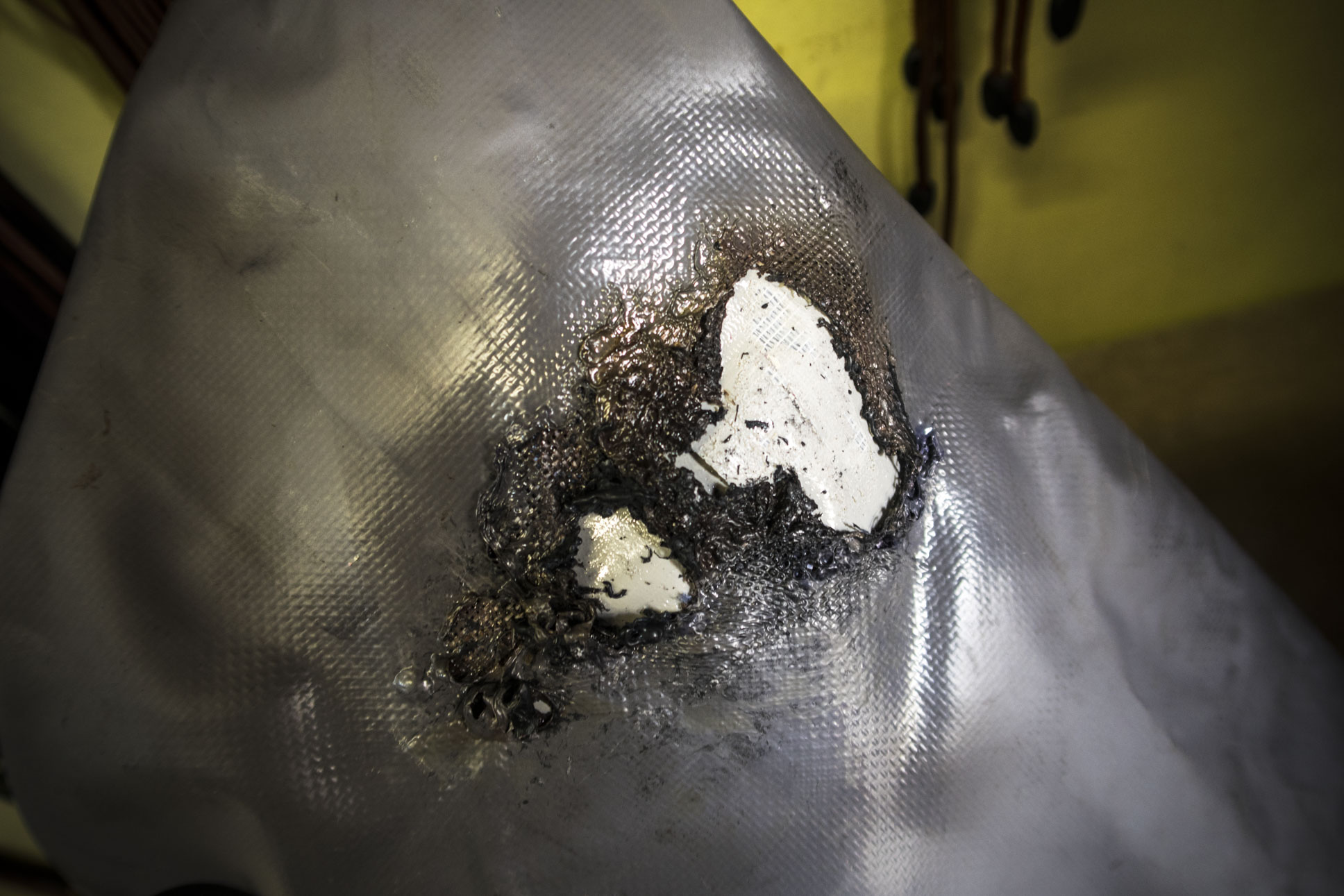 It doesn't like the exhaust, at all. This is an actual hole, only I've put the tape on the other side of it already.
Before I got myself a rok strap, I used the bag's own 4-point strap system, but I've found this a lot more cumbersome, and it also gets loose easier. I made this discovery already on the second day of my RTW, when the exhaust burned a huge hole on the bag that slid back. This was fixed properly a few days later in Turkey by a shoemaker. He glued a layer of leather both on the in- and outside, and it has been working seamlessly so far, perfectly water- and heatproof.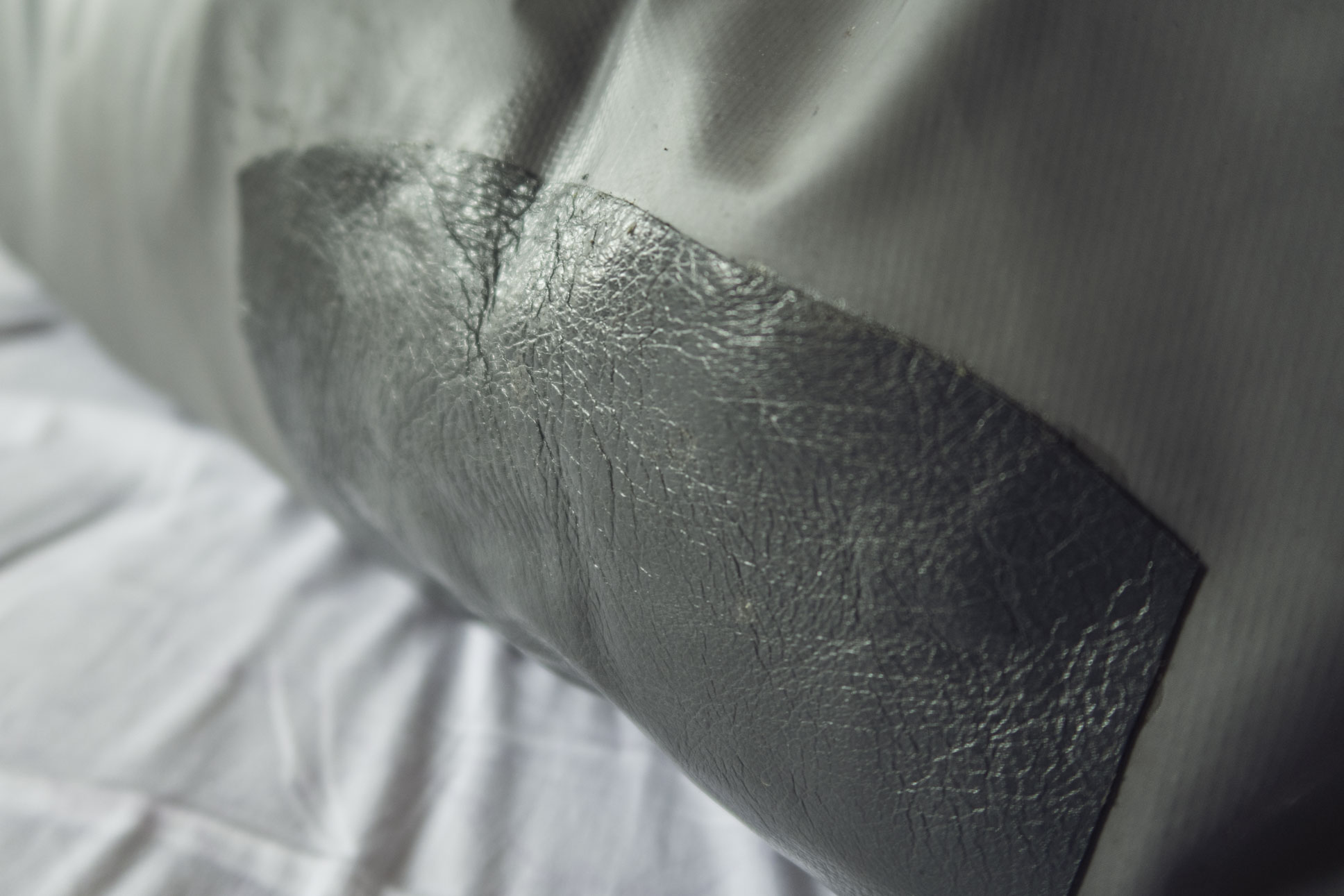 Premium upgrade: two-layered leather insertion with perfectly matching color. Better than new!
In addition to these, I used a tank bag, that I personally really hated, and it has always been half empty. So I put an end to this now. The camera is always hanging in my neck, the action cam is always on my helmet. To replace this, I got myself a bigger, waterproof fanny pack to keep my documents in it, and if needed, I could force the camera into it, but I don't want a humongous cube just hanging out there between me and the handlebars.
I met quite a lot of bikers and without exception all of them drop their jaws seeing how little stuff I've brought for such a trip, but only until I ask them to list all the things they brought and never used. Of course, you can bring a foldable camping chair, a set of camping cookware, or a camping shower, but I think these are things you can sort out on the spot.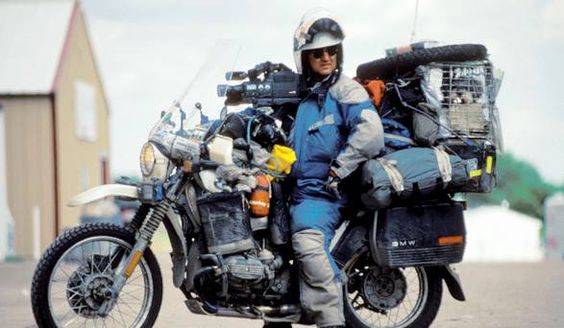 He's definitely not the face for GoPro.
So what's the conclusion then? Soft or hard? This is still up to taste. If I know for sure I'll be going off-road, for sure soft is winning. If I'm only touring on asphalt, or the roads are relatively smooth, I like plastic. And as opposed to many, I don't see any real advantages of alu cases. If someone would put a gun against my head to choose one, I'd definitely go for soft ones.
If you want daily fresh, find me on facebook: https://www.facebook.com/Othrn/
If TL;DR: https://www.youtube.com/channel/UCBPlwjAXybPL4fqbrmpMALg/videos?disable_polymer=1
If ain't noone got time for any of that: https://www.instagram.com/ontherunontherun/