Suddenly I've found my sad self alone, in the rainy Batumi. At least I know I'm A in self-pity. I just didn't feel like doing anything. And when that happens, I simply just don't do anything. Which is actually not even true, because I was working on the blog, and had to fix some stuff. Apparently I haven't been away long enough to be able to leave those errands completely behind and focus solely on travelling.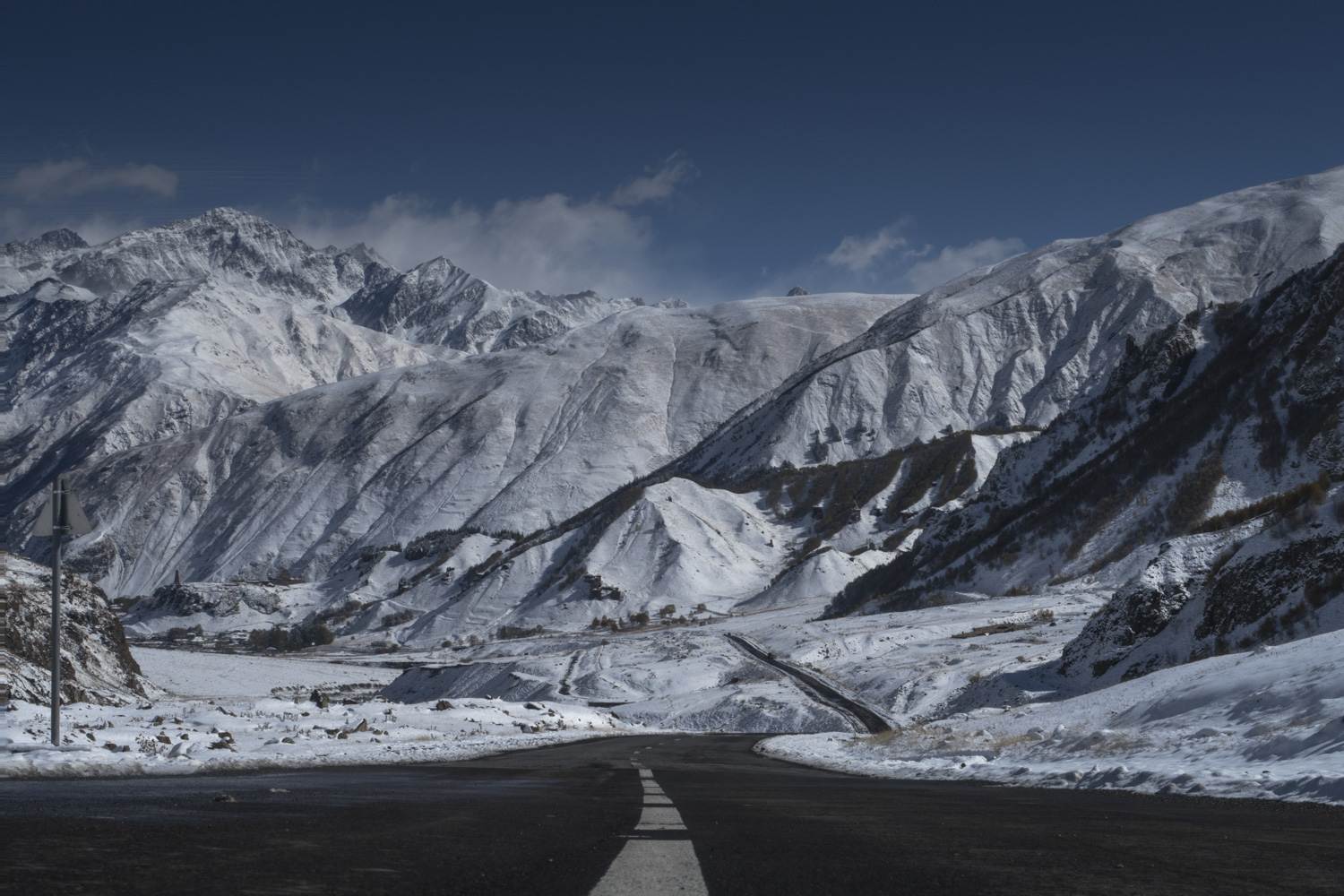 I lost my Mojo
But luckily not like Austin Powers. My Mojo is my speakers, that I forgot in that ghost-hotel in Kobuleti, where we were the only guests. I tried on all platforms to get in touch with them from Facebook to Bookings.com, finally I managed to find someone through Airbnb who agreed to go and meet me there, open the place. I was super sad when I realised I've lost it. I got this thing last minute as a gift, and it meant a lot to me to be able to listen to music not only through earplugs. But this little cube only stole my whole heart once I realised I can also use it with my laptop when I'm watching something, which amplifies the cinematic experience by a magnitude. Little Mojo!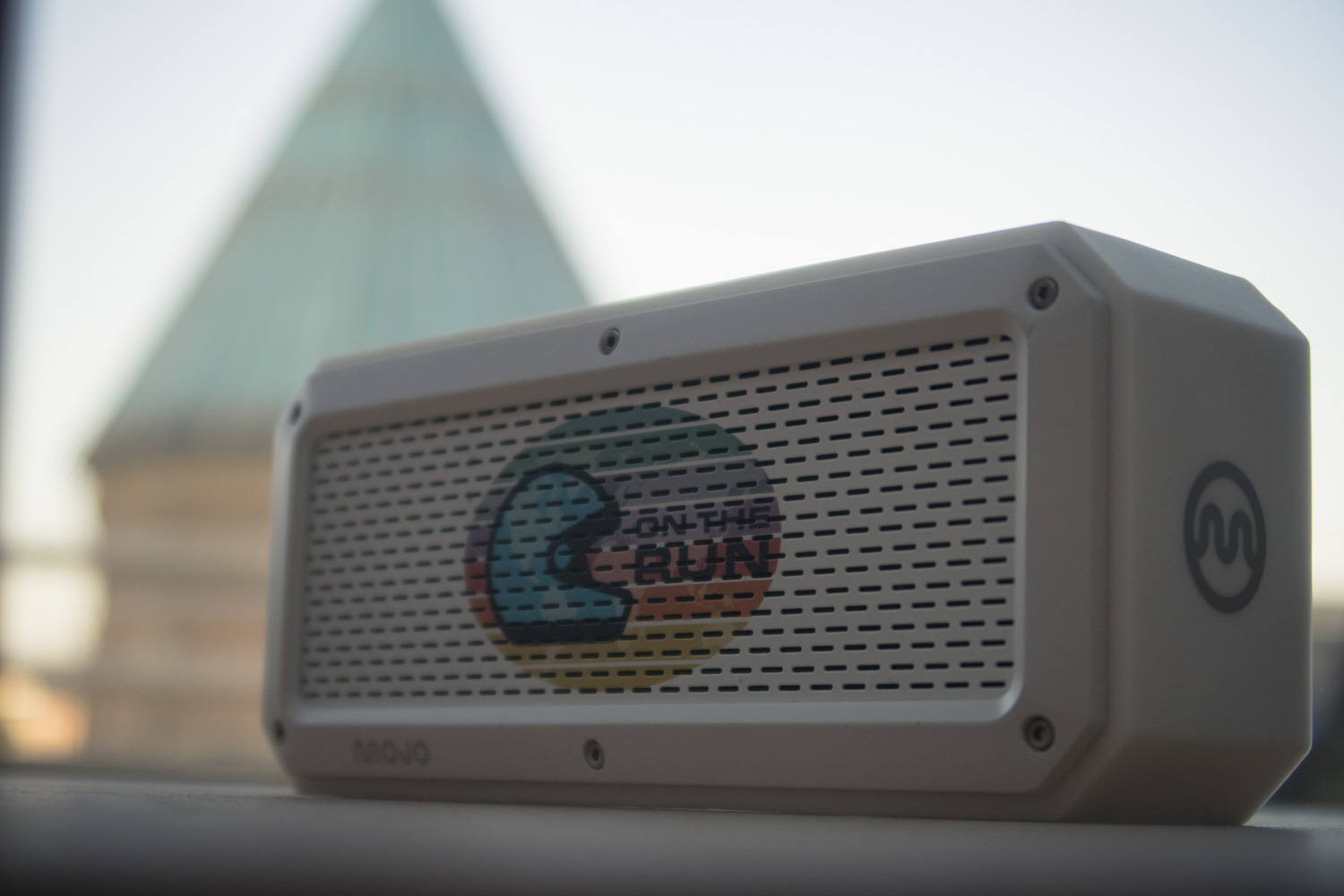 I saved Mojo!
The next day I jumped on the bike in pouring rain for a change… I was heading to Kutaisi with a short stop in Kobuleti. Obviously nobody was waiting for me at the hotel, all doors were locked. But I was nagging the neighbour until he suddenly realised, he's got my speaker in the meantime, and finally gave it back to me.
Hello Wild Wild East!
A couple of hours and some tons of mud later I arrived in Kutaisi, but before I did that I collected my first fine from a policeman, who punished me for not entirely stopping at a level crossing but slowly driving through - like everyone else did before and after me.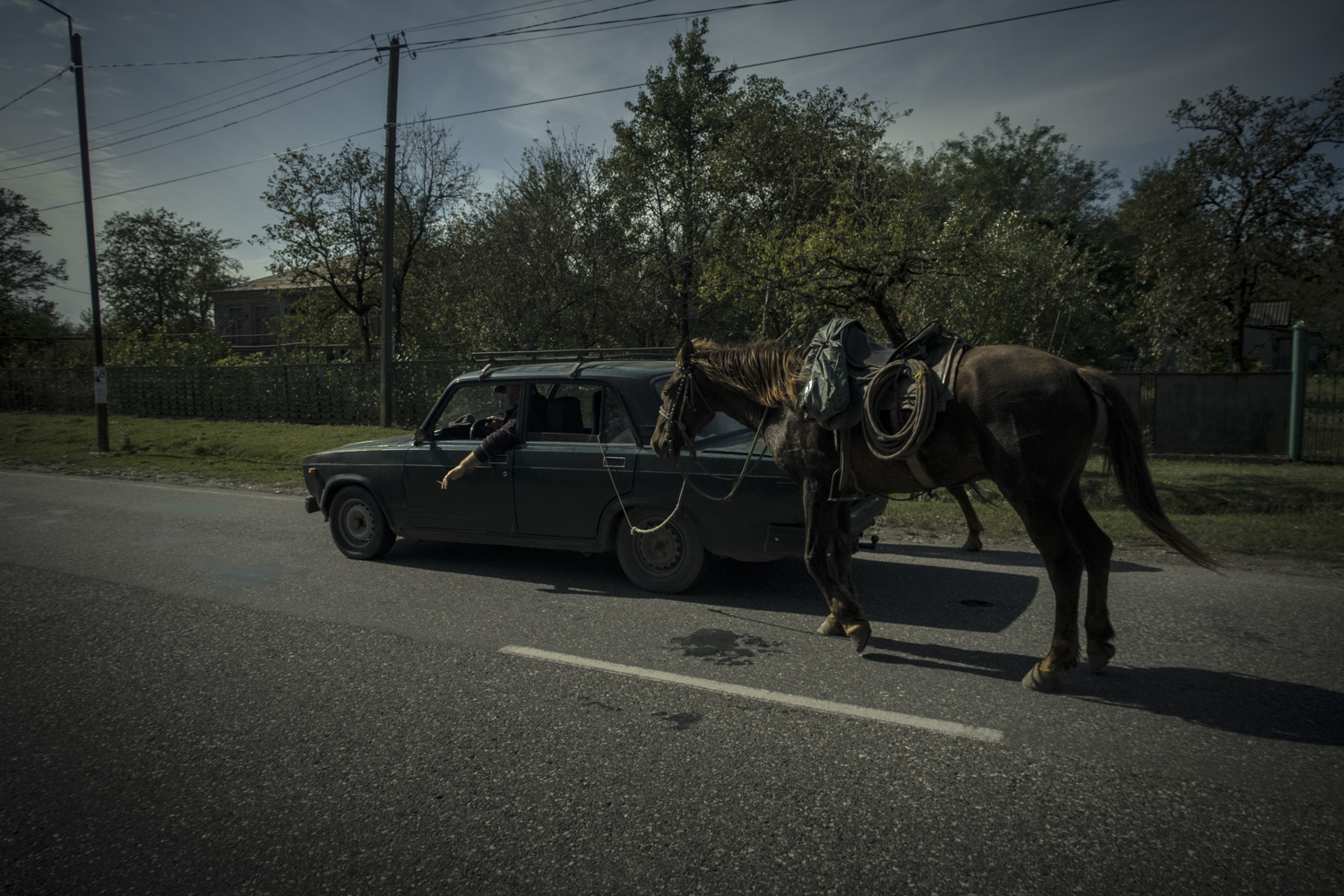 I would've preferred the horse sitting on the back seat or in the trunk, but it's not too shabby like this either
There is no corruption on this level in Georgia, since all officers wear a bodycam. So I really didn't get, why the hell did he need to torture me with that 20 Lari fine that I will have to pay on a cheque. At least he could've let me taking a selfie with him, like his colleague did, who balanced out my 6 EUR loss with an ocean of likes. But Mr. Stiff Ass wasn't that cool this time.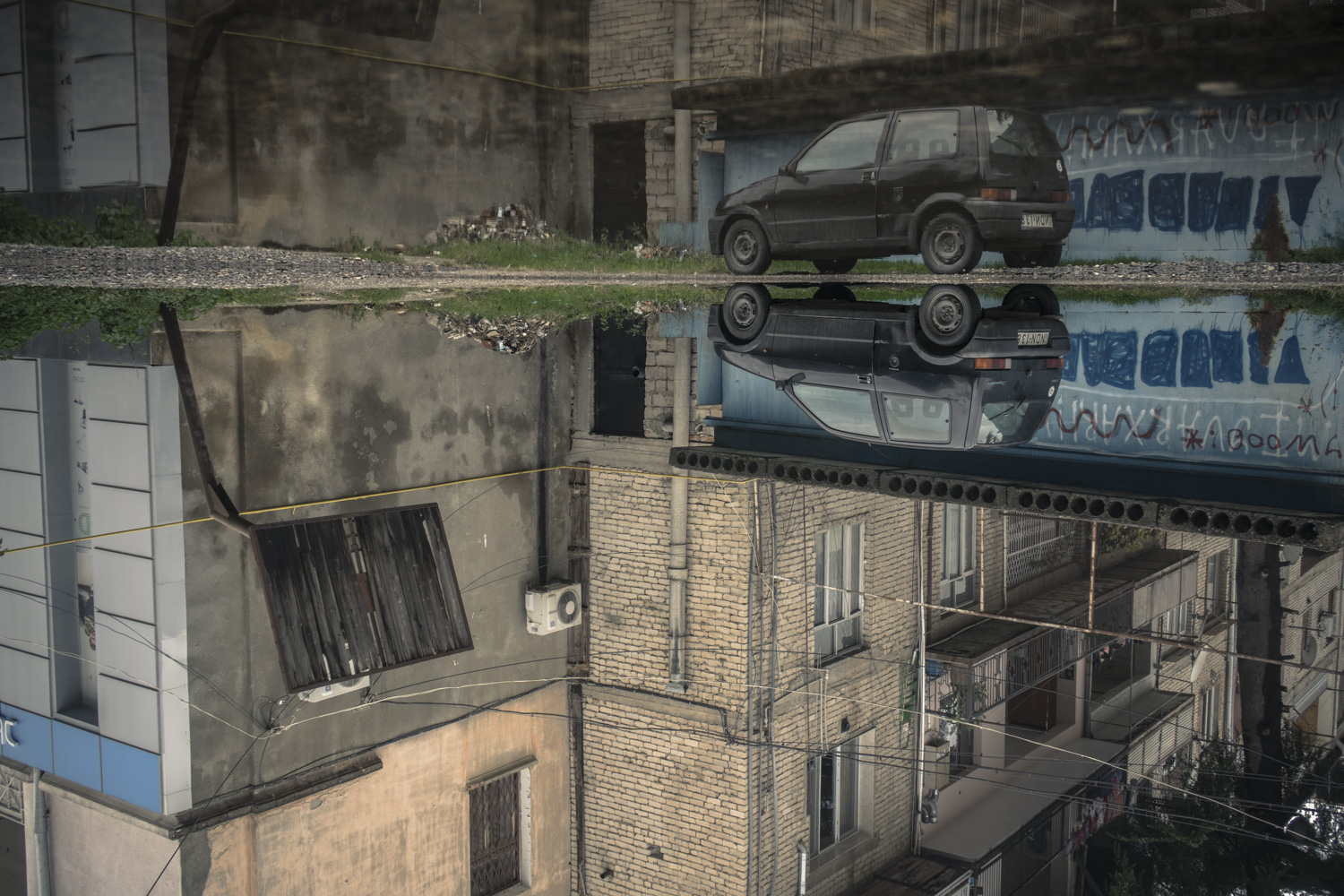 Downtown Kutaisi
I picked a hostel for myself, where I was gonna meet a lot of people. Kutaisi didn't show me its pretty side, but I have to tell, Kutaisi just doesn't have one. This city is really fucking ugly, where the socialist feeling from the '80s reigns. Unfortunately I was the only man alive in that hostel, and it was even dirty and smelled like shit. I was quite tired, spent the afternoon listening to music and making a list of things to see along with a proper hotel. I'm not a princess, I don't mind the dirt if I have some company. But sitting in the middle of shit alone wasn't so cool.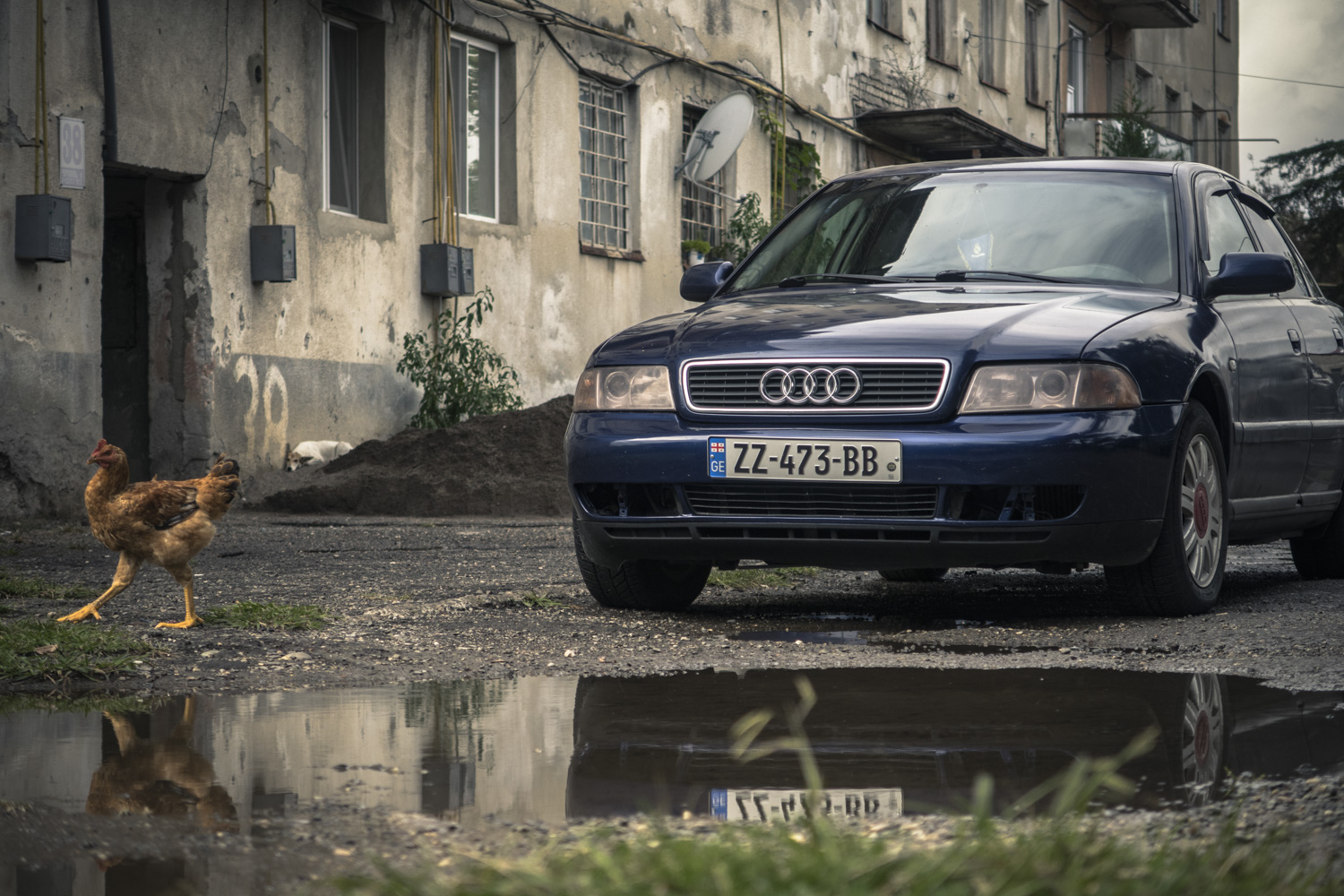 Kutaisi suburbs. Can you tell it apart from the centre?
Early morning I moved my base to the new hotel, which was only 3 EUR more, but multiplied the quality of my life by thousands. I walked around in Kutaisi and checked all the sights the city has to offer. Which I can count on one hand. But nobody comes to Kutaisi for the city, but for what the region has to offer.
The Kandy-Kolored Tangerine-Flake Streamline Baby
The next day I was on the horse really early, I had 3 things on my list. First up was a cave called Prometheus, and on my way there something completely unexpected happened!
Every rider knows the wisdom: the bike goes the way you are looking. I know this, I have saved my ass many times by not focusing on what I'm about to ride into, but to keep looking for the escape. But now that I was riding through the mountain roads I realised that if I don't look exactly where I always do, but I raise my eyes about 10-15 metres ahead on the road, the bike will actually literally drive itself, no need to pay attention to a thousand things, enough to keep my sight on the road. The bike will follow the curves and I am a lot faster. I truly become a caramelised jello in tangerine color. I honestly didn't expect to find out something that makes my rides so fundamentally better after 30 years riding.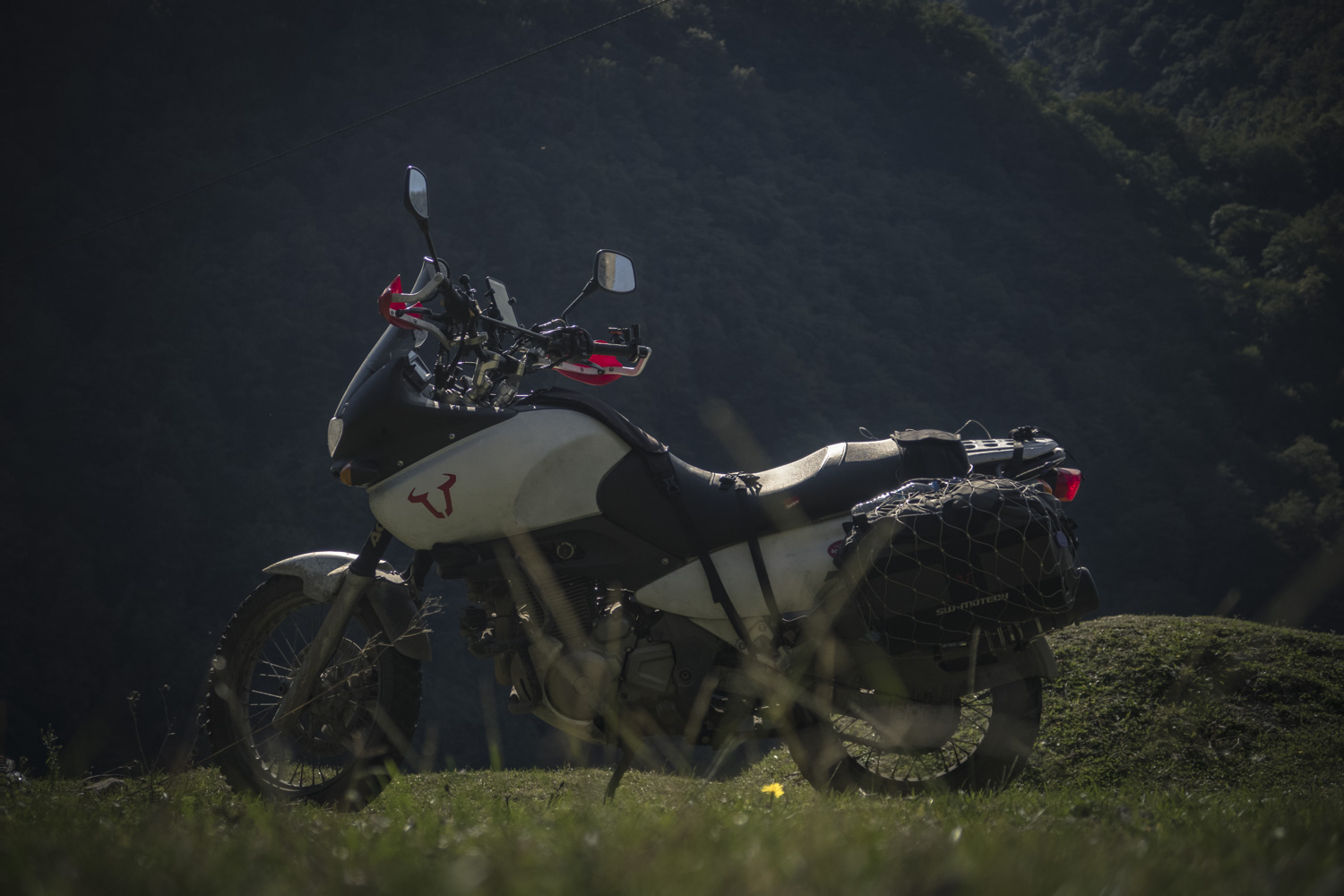 My little pony poster
My whole face was one big smile as I pulled over in front of the cave thanks to my recent discovery, the beautiful landscapes and the road.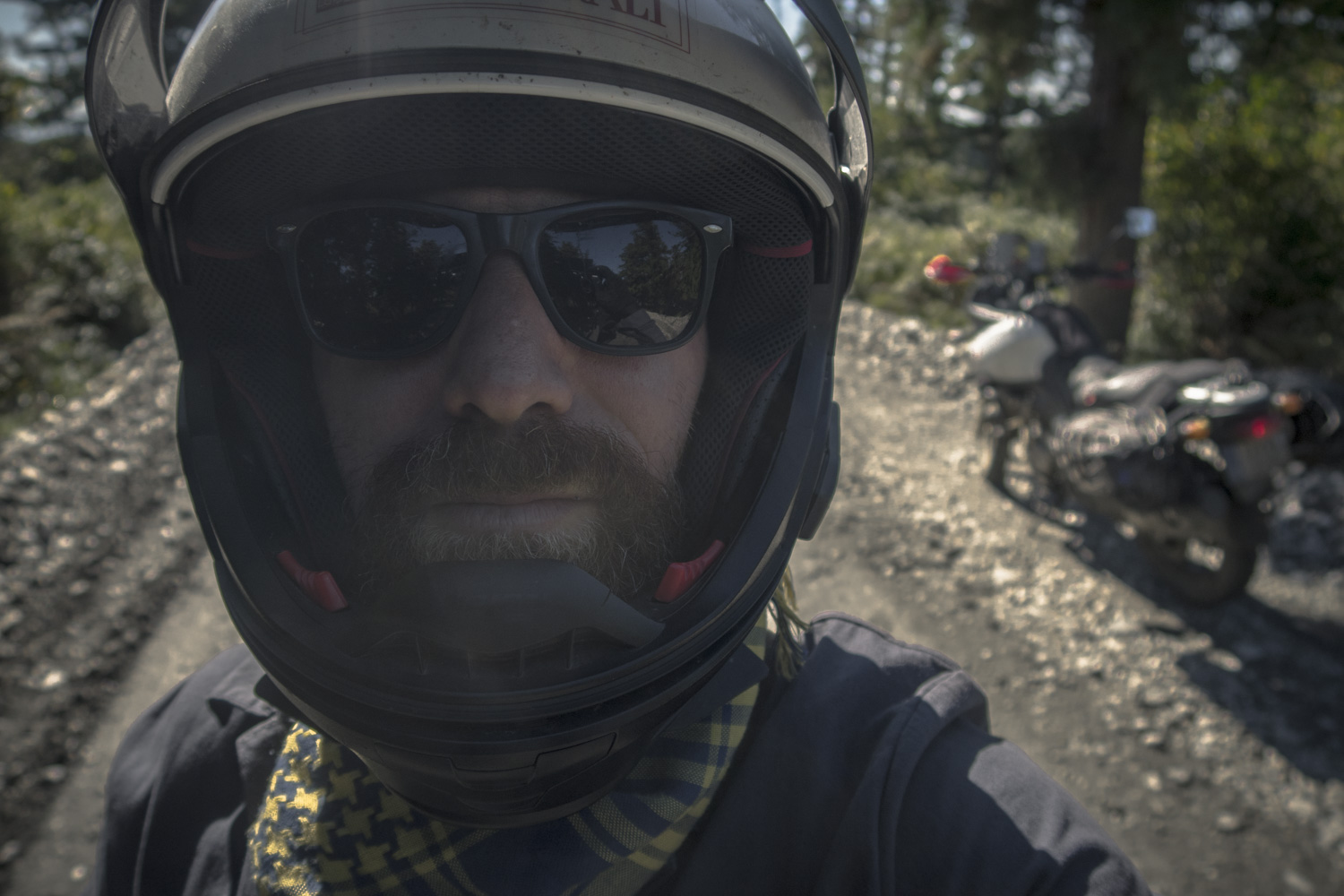 I might look serious, but everything is a big smile inside!
I'm a little unsure about caves. Somehow the darkness attracts me, but 8 out of 10 are actually boring little holes. So I was expecting no more from this one either. But the Prometheus cave turned out to be one of the most exciting caves I have ever stepped in! It's a limestone cave with 20-30m high ceiling in places, the whole thing is just super impressive! You literally drop your jaw walking around. It's actually really weird how it was undiscovered until 1984.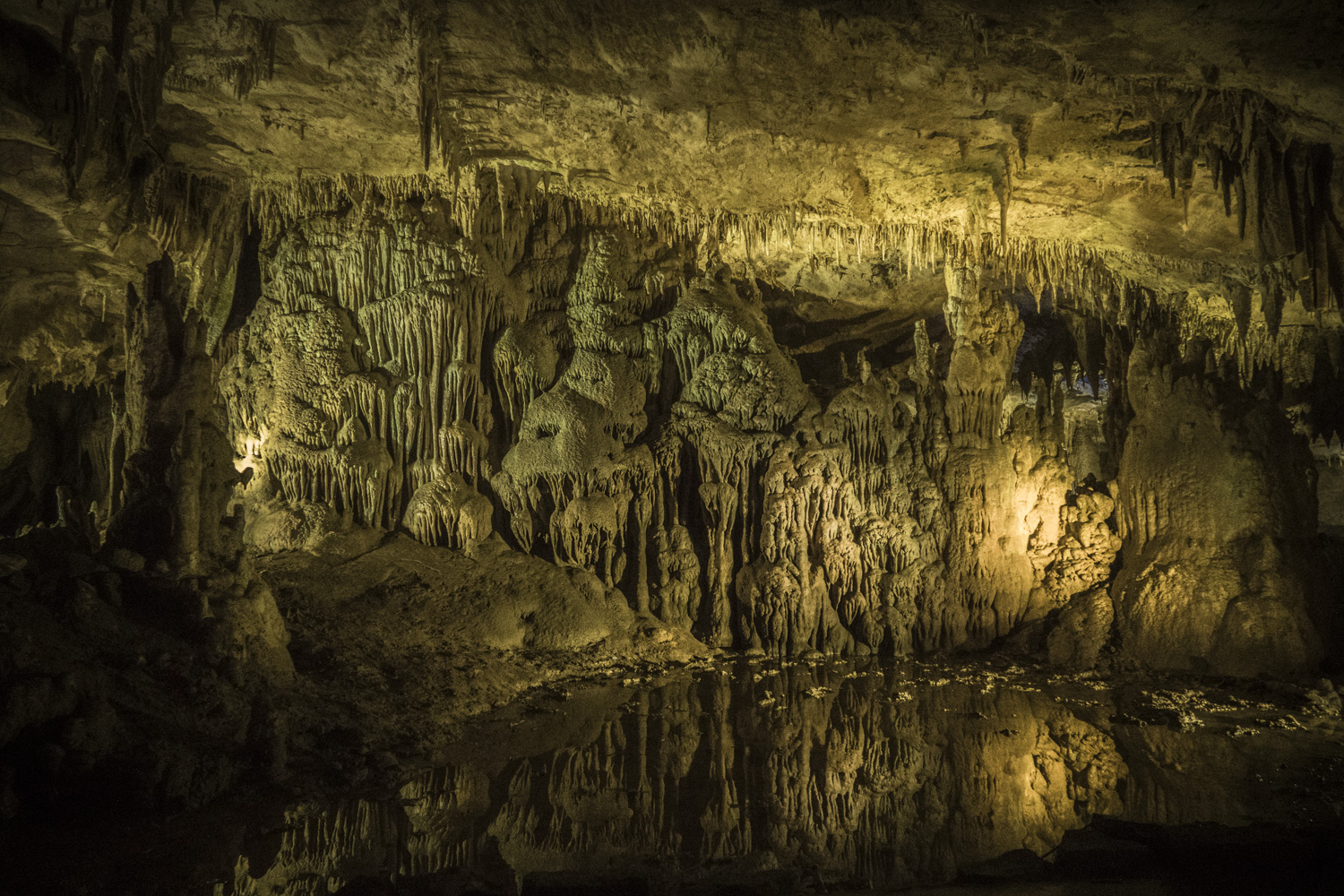 Only minimalistic yellow lights here
Awesome cave, yes, but a couple of things I'll never understand:
1: Why do people at operations think that caves can only be lit by colorful lights? I honestly don't see the point in visually destroying such a beautiful natural formation with those kitschy solutions. It's like you asking your neighbour, Ronnie to put up some nice lights on a fucking Giger sculpture. Results guaranteed.
2: After stabbing my fucking eyes, why do you keep torturing my other senses with fucking François Couperin music for over an hour for the show?
3: That's probably not operations' fault, but there was obviously a fuckturd with us, who was wearing sunglasses for the entire tour, and he kept taking selfies and photos with the flash. Please no fucking flash! It doesn't make any sense in such a space anyways. Whatever.
Regardless of these annoyances, I had a great time there. Coming above ground I instantly hit the road towards my next destination, to the Okatse Canyon. My GPS took me through some crazy lost villages and I got to show off my off-road skills too. I was covered in mud tip to toe by the time I got there. I was already happy for those mountain roads from the first section of the roads earlier, but I have never felt this happy for being lost since I'm alive. I did about 20 km in about an hour. When I got to the canyon I did another 8 km to a lookout. As I was looking down from here I realised I won't be able to get to the Martvili Canyon, but I can still do the Kinchka waterfall before the night falls.
My GPS took me again on some crazy roads, there was a point where I had to surrender. Even if I believe I'm the best rider in the world, there was no way I could do that steep, rocky road. As I decided to turn around I managed to fall over on a steep mountainside in the middle of nowhere, not a single living soul anywhere near. Luckily I chose this bike exactly for those instances, so it wasn't easy, but I managed to get up. When I did I decided I'll call it a day.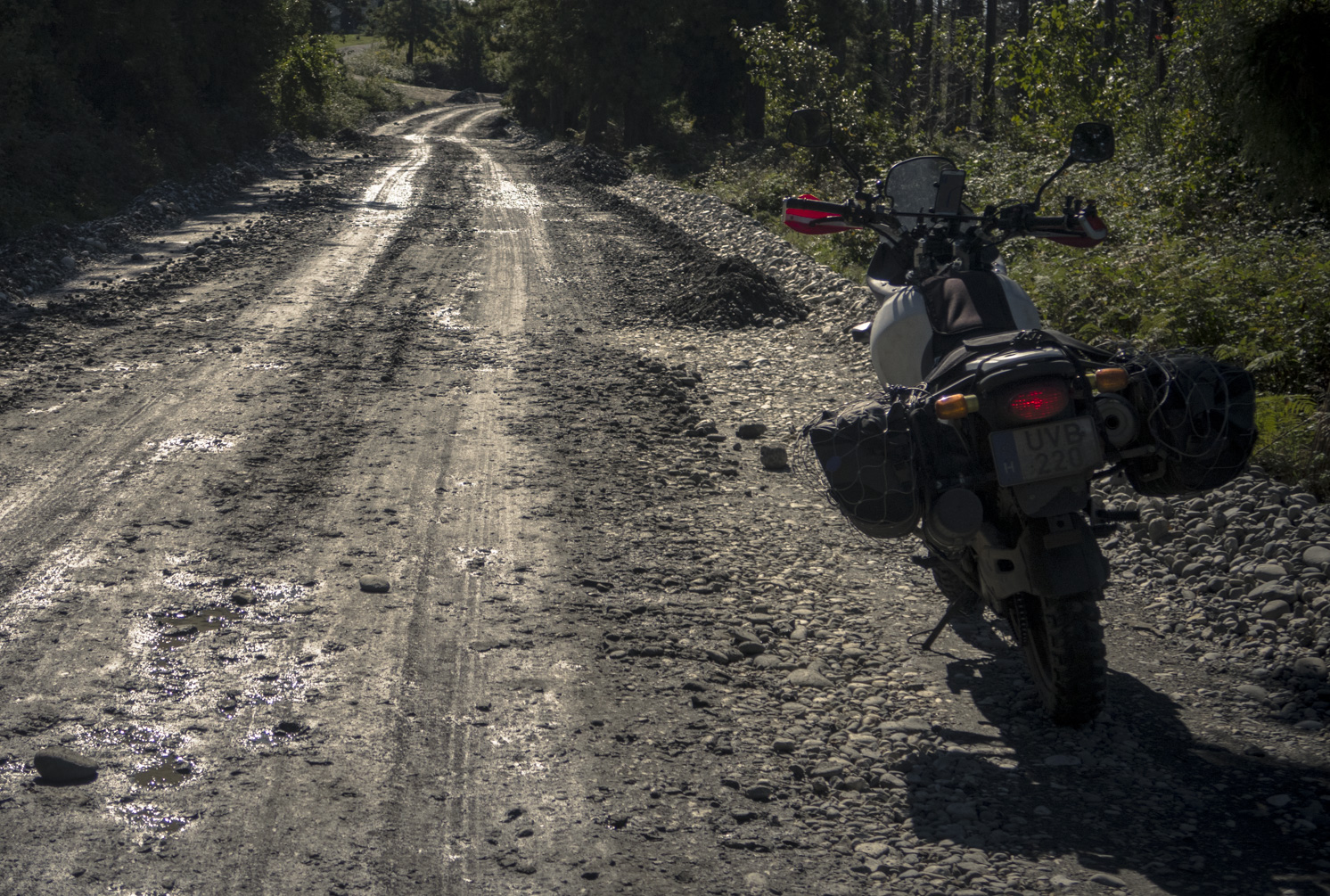 The next day I had another attempt getting to the waterfall on another road, but that was closed off, and they told me I should go on a small mountain road. So I tried to tackle that, but it turned out to be too scary, so I turned back and set the GPS to the Martvili canyon.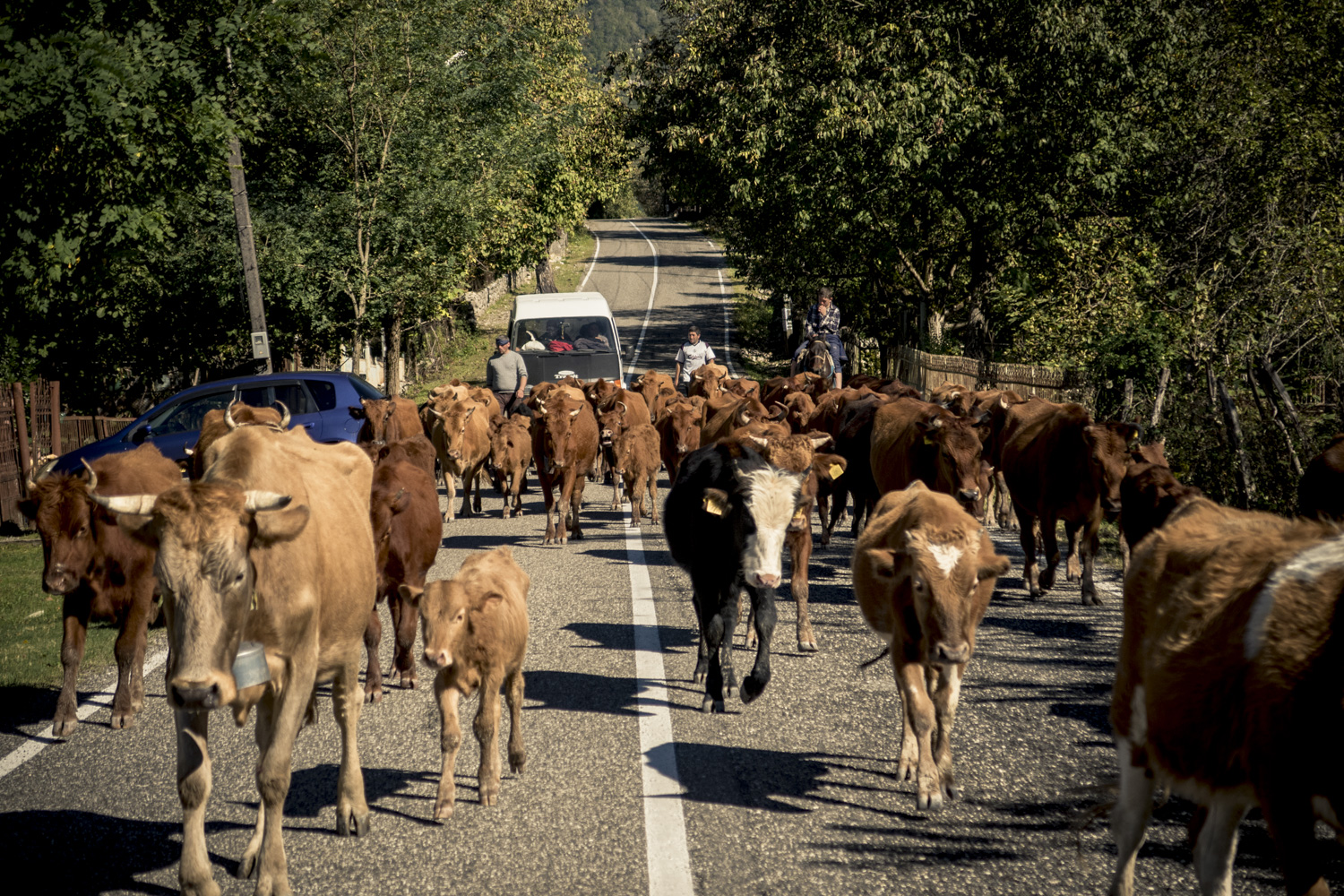 The Martvili canyon is the most famous sight around here. And it does look great. But nobody tells you that all those cool rafting photos are taken in an ankle deep water, you flow down with a very low speed. The whole journey lasts for about 12 min, then they turn you around. You can actually walk the whole thing in about 1,5 hours. However I wasn't disappointed. I had a good run afterwards, and got to Tbilisi early in the evening.
Civilisation
I haven't spoken to anyone for 5 days. I wasn't going mental just yet, but I knew I'll have to interact with people, otherwise I will. It's not that funny alone anymore. I arrived to the accommodation late at night, where I immediately bumped into an American and a Chinese dude, and the two bottles of wine we finished right there and then. The rest is only blurry.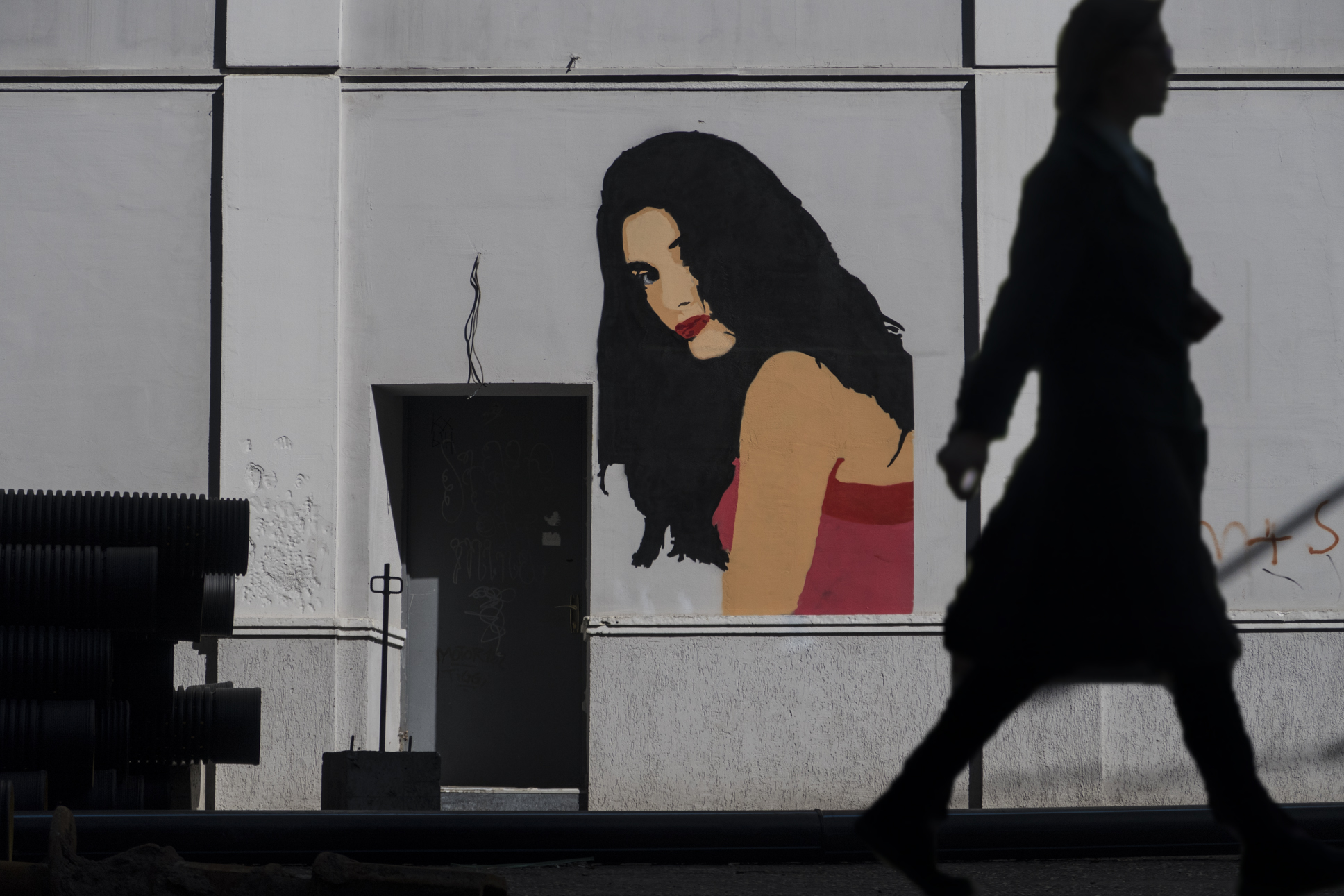 The next morning I also got to meet my roommates, a dude from Kazakhstan and two from Belarus, who are technically Americans now. So the four of us went to one of those famous bath houses of Tbilisi, and after 6 weeks on the road I finally had a proper chill in the hot water, and got a massage on top of it all.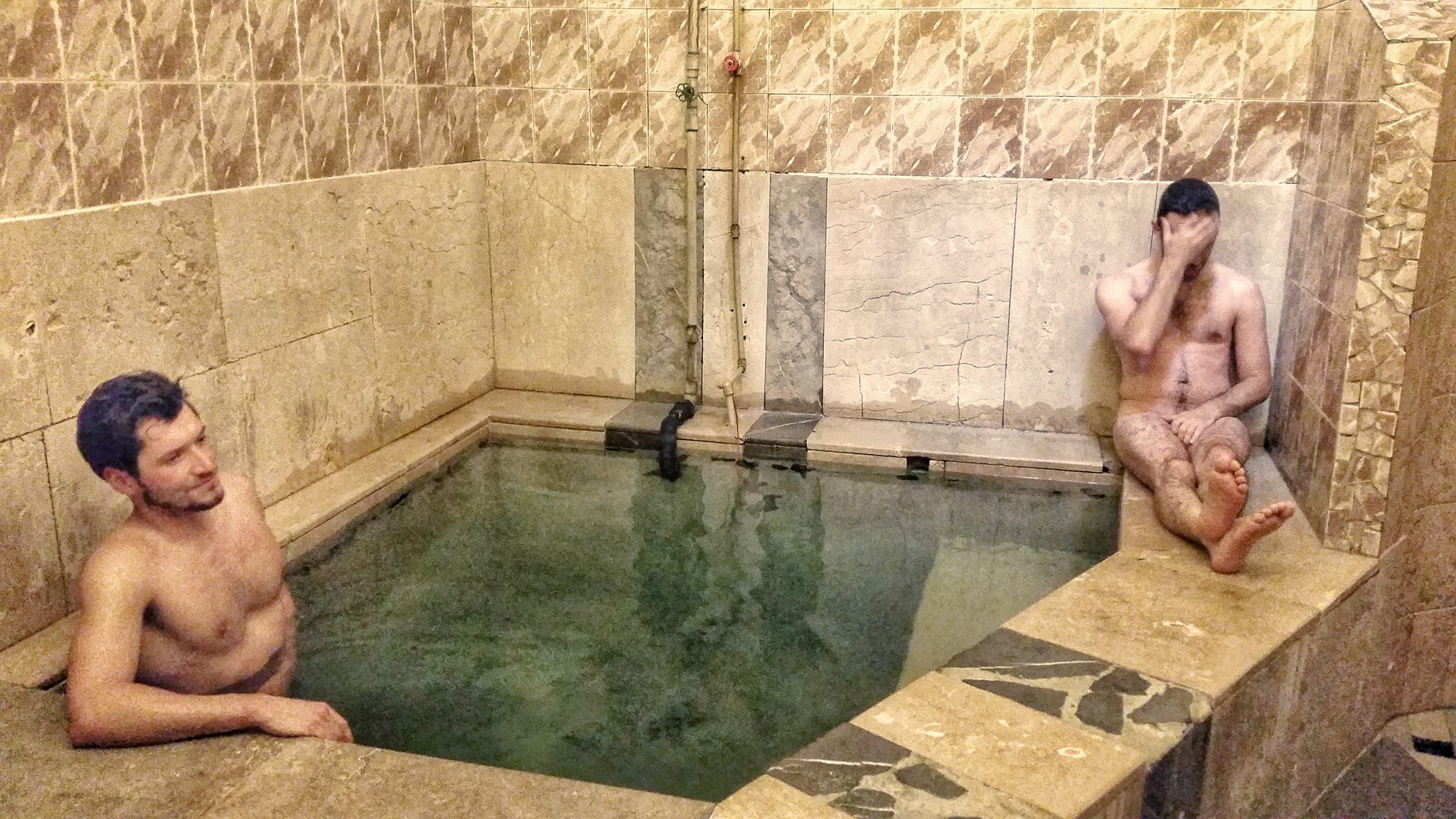 It was just as great as much it looks homoerotic.
The next day we met up with the American, the Chinese and the Belarussian dude, we rented a modified, thousand years old Nissan X-Trail, and we head to Kazbegi.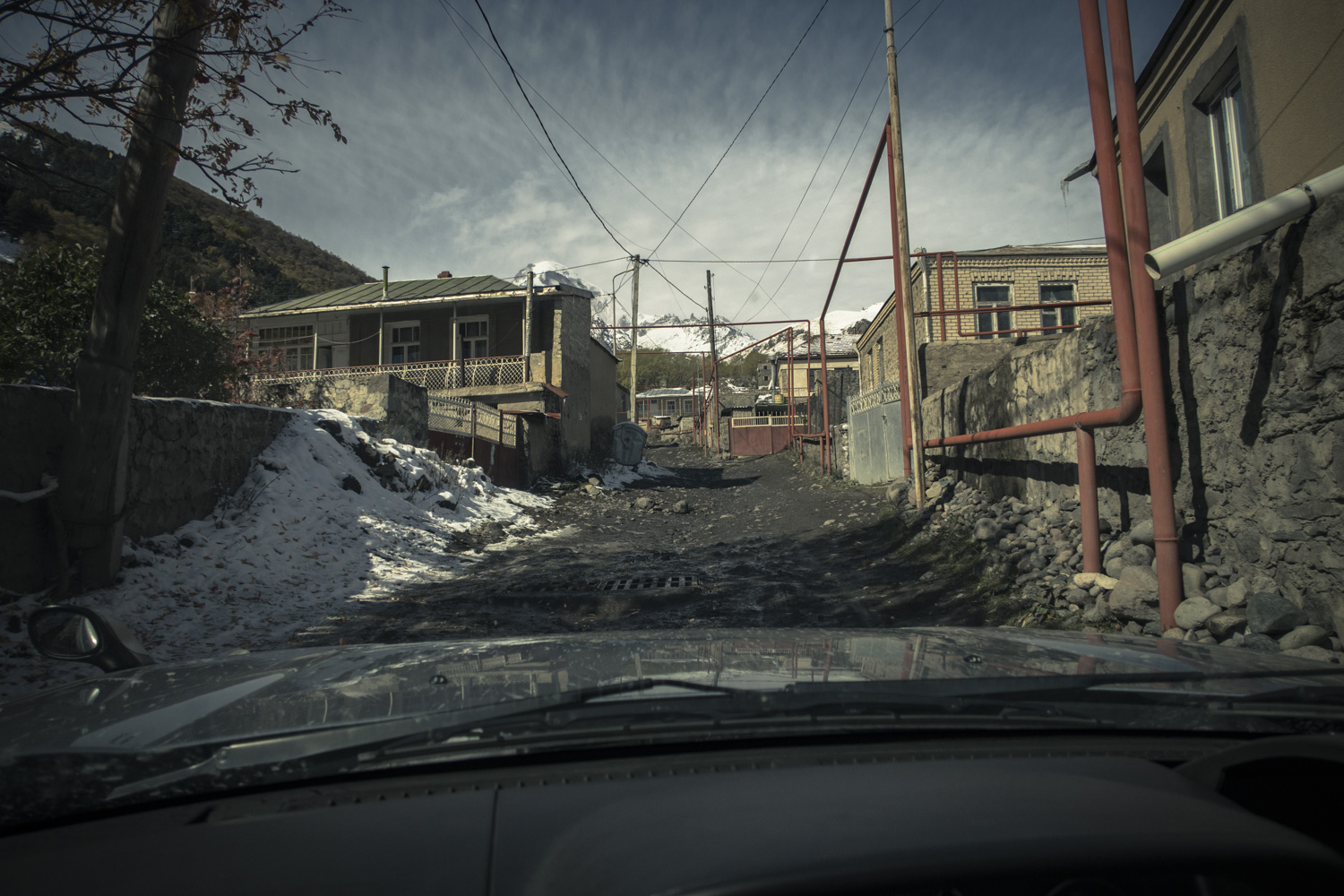 The streets of Stephansmida. 4x4 needed.
After that road in Mestia, I was a bit sad that I wasn't riding my bike to these mountains too, but suddenly it started snowing that turned into a literal snow storm. It was fun driving in the snow for a while, but this two-lane mountain road aka the Georgian Military Highway is packed with trucks and sheep herds moving slowly that you need to slalom your way around to bypass.
The plan was to get to Stephansmida the same day, but the situation started to get serious. You can shove the 4x4 in your ass if you get them with summer tires, like we did. So there was a point where I didn't dare to continue, so we turned around because the others gave up a while ago already.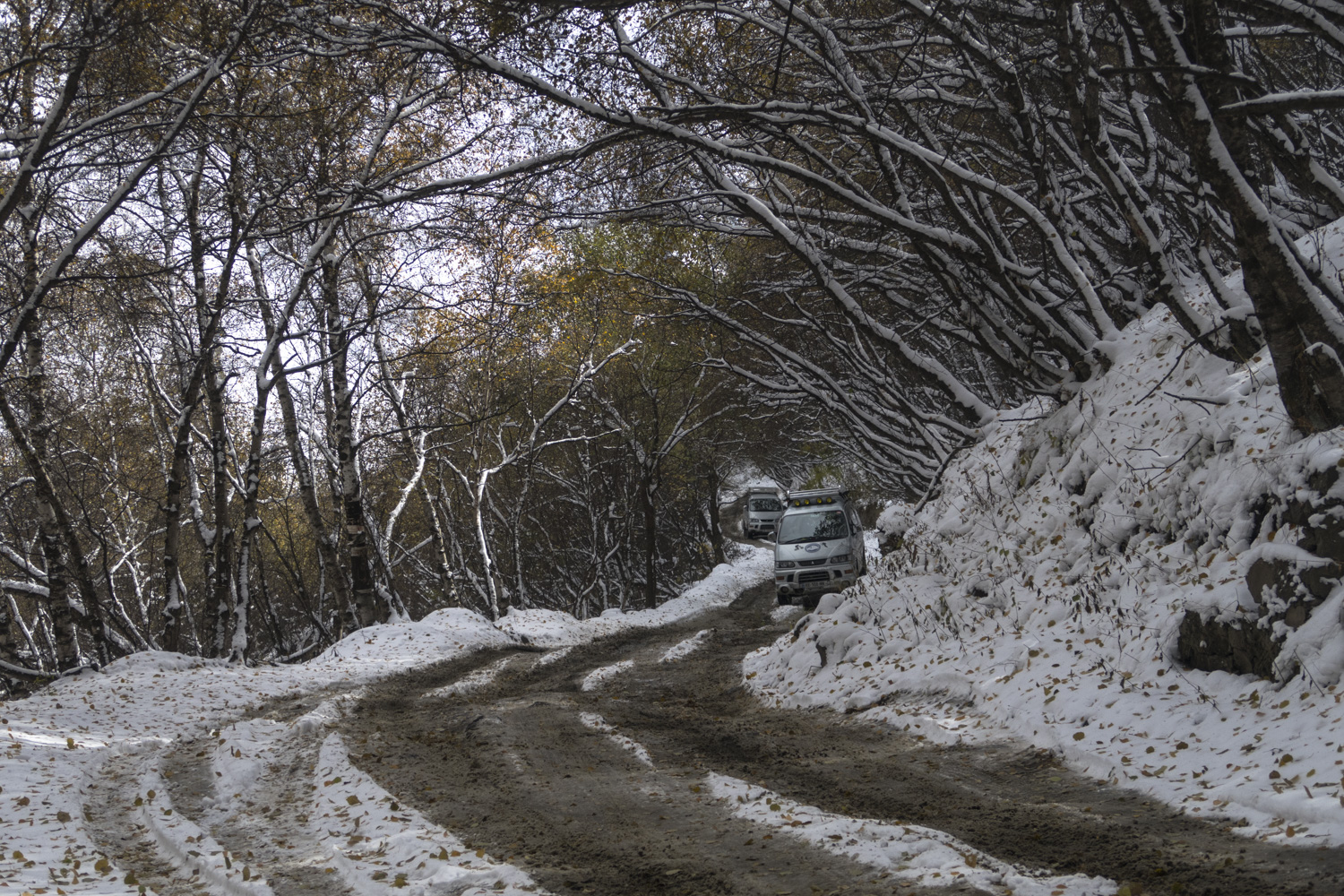 It looked a lot better the day after
So we fought our way back down to Gudauri, one of Georgia's ski resorts. But since this was the first snow this season, nothing was open, and there was chaos everywhere on the roads. Cars were stuck or parked randomly all around.
We finally found a shitty motel that was open, where the receptionist told us they have a room, but there is no electricity neither heating for 80 Laris for the four of us. Given that it was literally a shithole and that the forecast promised -8 degrees, I managed to convince the others to continue. Everything was closed, except for the most expensive hotel of Gudauri. The situation got quite serious with every minute passing, because all the drivers that got stuck started to also look for accommodation, and there was really nothing open. We managed to get to the hotel after quite a bit of struggle, turns out the spa section was fully under renovation for the time being, so we got to stay for a ridiculous 50 Lari / person in a freaking 5 star hotel. Everyone was super happy except for Tsien Do, who wanted to go back to that freezing shithole because he hates being served.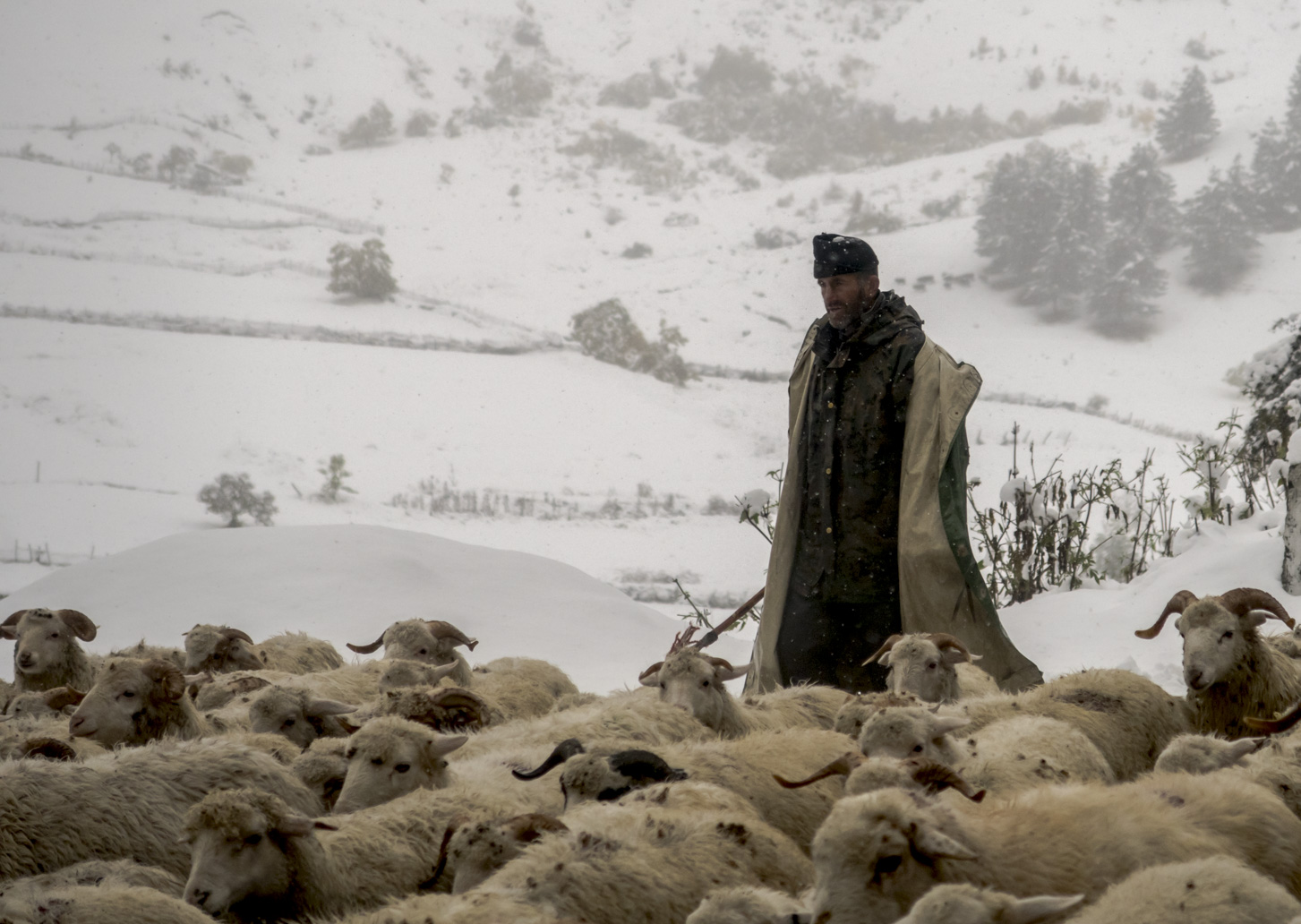 He acted like a dick all night. It didn't matter how well we explained him how lucky we are that we got a heated room, with beautiful soft beds and breakfast included for just about double the price. His biggest problem for the night was the fact that he got tomatoes on his Margherita pizza. Because he knows how to cook, and he knows that there shouldn't be tomato on a Margherita pizza. We laughed our asses off all night. Fact is, if you have a Chinese friend who can bear racist jokes, that you should just keep them coming til you can. I tried to condole with him telling him how Domino's is the golden standard for quality pizza in Hungary, and that our favorite pizza is ham-mushroom-corn, nothing worked.
Tennessee Williams would be jealous
I managed to find myself the weirdest company to be stuck in snow with. I can't say I had a good time, because you couldn't invent such characters even if you wanted to.
First up, there was Greg. The American dude covered in tattoos, who left his country 9 years ago because of the Bush administration. He wanted to return when Obama won, but by that time he already had a bar in Nicaragua. By the time he managed to get rid off of it, Trump got elected, so he decided not to return after all. Then he decided he's gonna go around the world, as much as he can on land. He was about to go to Turkey, when Trump and Erdogan got into some sort of argument, so his visa application was denied. Luckily I could tell him where to get his tickets in Batumi. While I'm writing this, we are actually chatting, and he just told me he missed his ferry because he got so drunk. So now he's stuck in Batumi for another week.
He says he went to the same high school as the entire Breeders, so he was even in one of their videos. I think that's pretty rad.
Tsien Do. Like any proper Chinese, he's got an English name, so we just called him Anthony, that's how he introduced himself after all. He's been living in Paris for 10 years, where he is studying law. He just failed on his finals for the third time. Anthony is a very funny, rounded Chinese dude. His parents must be filthy rich. I base this on the fact that their little son has been studying in Paris for that long. Also, only a rich guy can be annoyed by a 5-star hotel. A poor one would just be happy af for staying in such a place. If you're a spoiled brat however, you might think that this is basic human right. Anthony was a good guy, that's why he was annoyed spending the family's money on luxury hotel, but I can see through the show.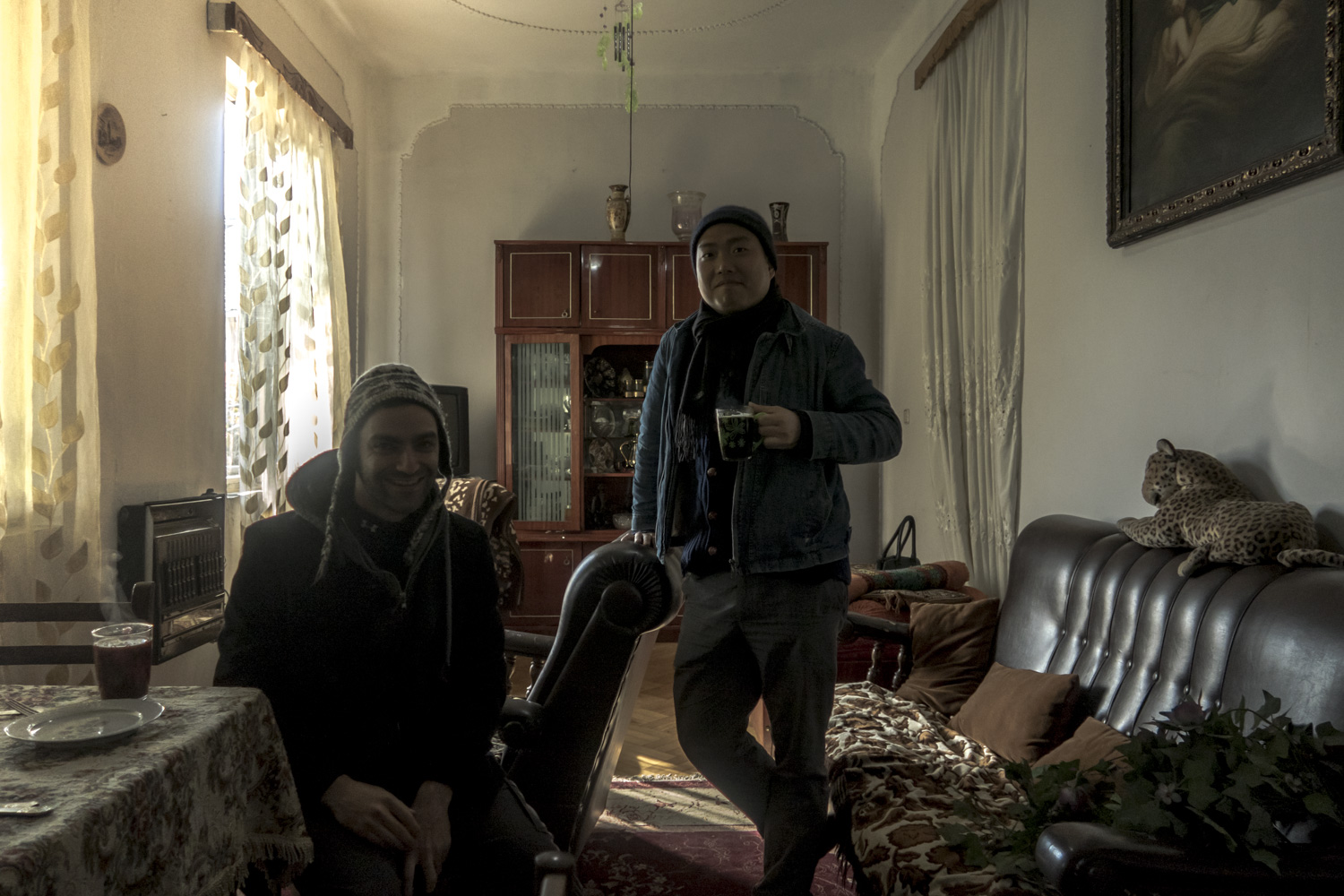 Tsian Do being fully content, because the place was cheap, and we got to freeze all night. For this much money, you can't have heating.
Zsenya: he was born in Belarus, but grew up in the States. I liked him a lot though, it was just a little too much Jewish self-awareness bullshit coming from him for my taste. And seriously, for someone who lives in Baltimore not knowing who John Waters is, leave me alone! I'm sure he watched Pink Flamingos by now.
We were kinda scared that we will be stuck here if the snow continues. But luckily, the sun greeted us when we woke up. We made our way to Stephansmida, and we saw Georgia's most famous sight: the Gergeti Trinity Church. As 90% of the churches in this country, this one is also on the top of a mountain, but it definitely looked a lot better than the other ones, and we only had to walk for 6km for this one.
Stalin's Revenge
On our way back we checked out the totally brutal, kinda psychedelic Russia–Georgia Friendship Monument, then we went to Gori, where we spent a pleasant night in a small, cold, dirty room, that Anthony booked for us as his personal revenge for his sufferings.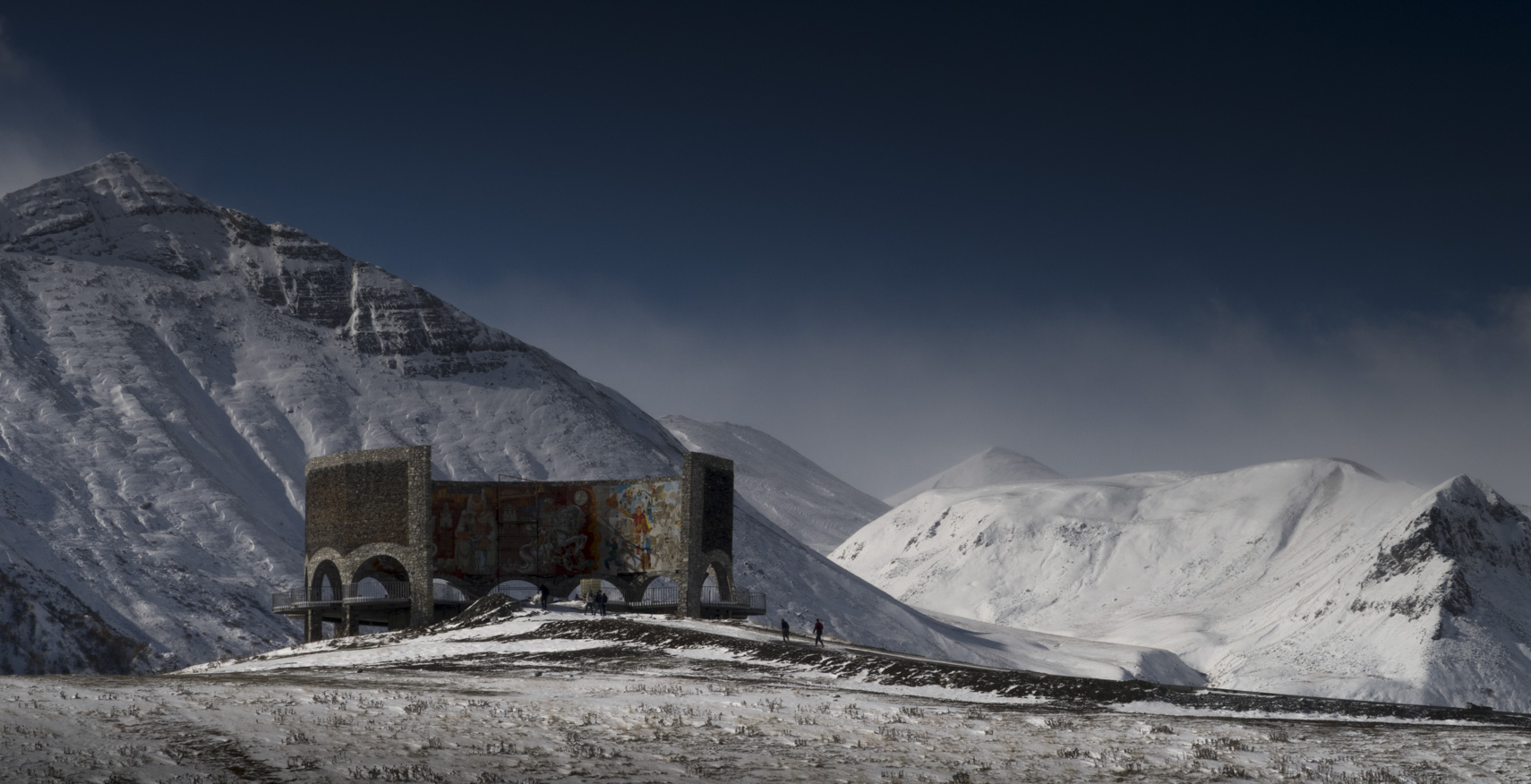 psychedelic brutality
Stalin was born in Gori, so there is a huge museum built around the house where it happened. You can learn everything you want from Stalin here. Everything except that this cheeky Jugashvili person happened to be probably the bloodiest dictator of human history.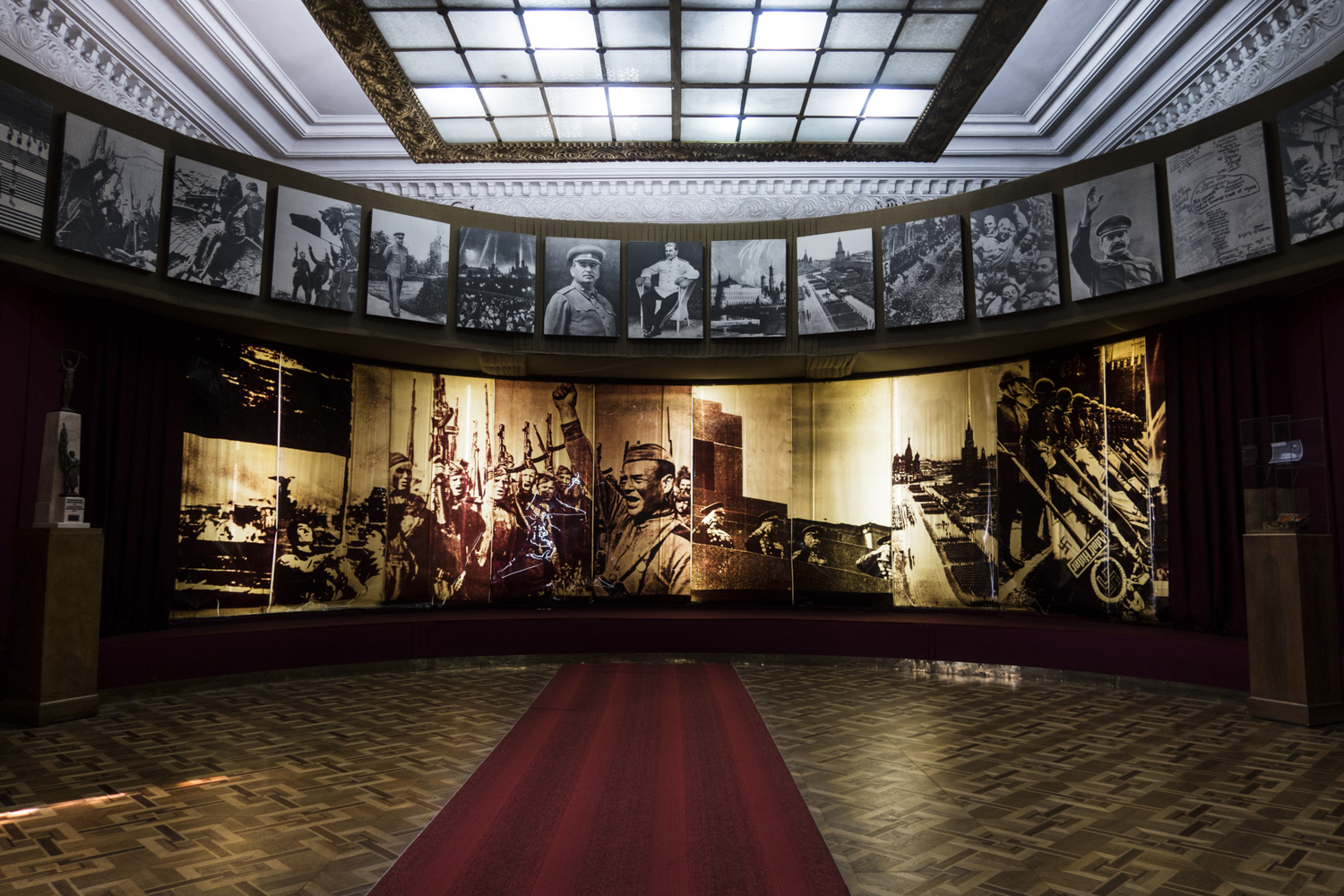 Maybe I'd turn out to be such a monster if I was born in Gori. The place kinda predestines.
Greg refused to enter the museum. When I asked why, he said because his grandma's brother used to say "give me more gas, I take Russia next!"
- So who was your uncle?
- General Patton.
Diplomat market
We went back to Tbilisi, and everyone went to do their own things. I was happy for my newly found solitude, and that I could discover the city on my own. I was there for 2 days, just walking around. That was enough time to see everything there, or if not everything, at least the things that were remotely interesting for me.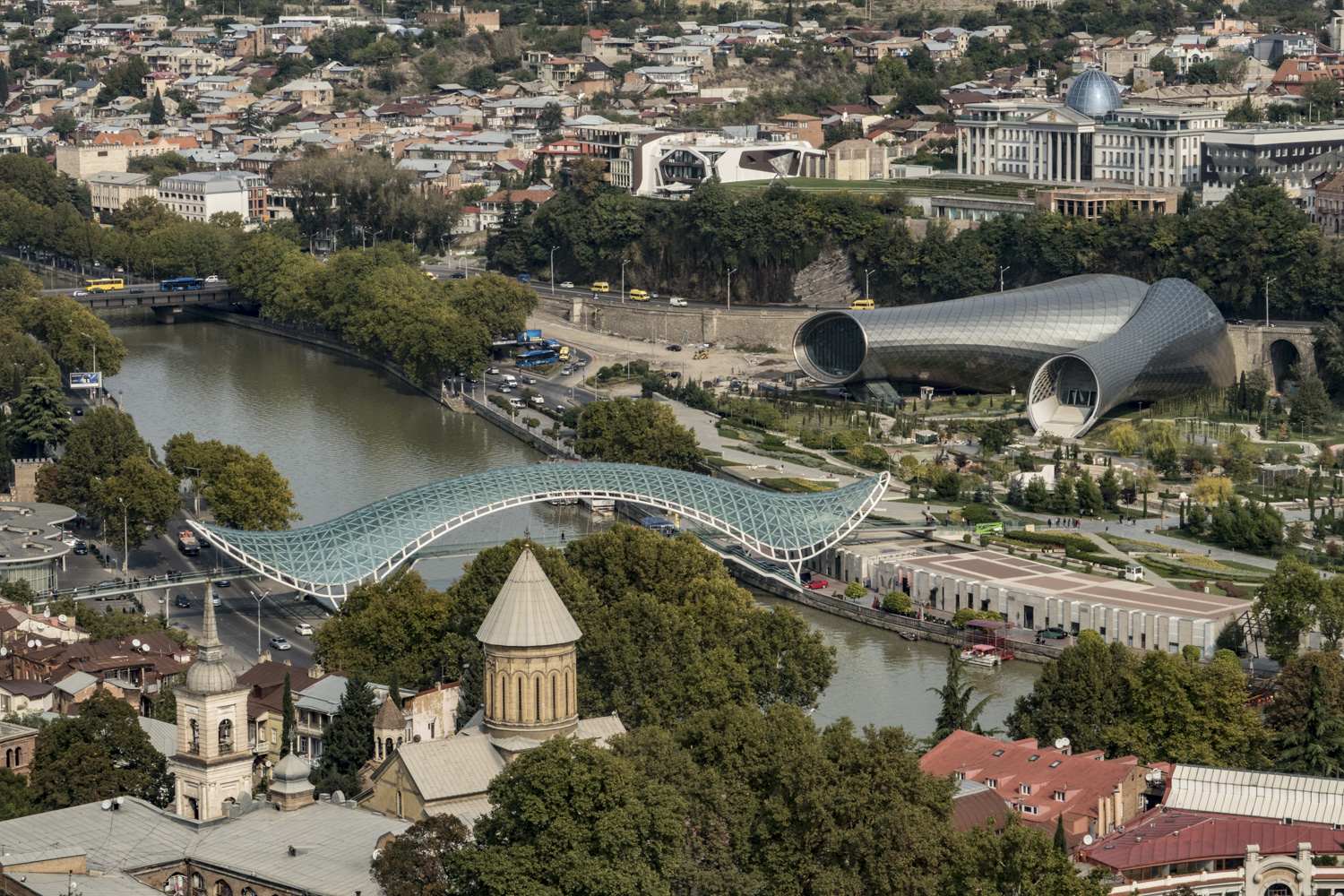 Modern architecture is booming in Tbilisi too. I think it's important and great if a city is proud of its own history, but if it fails to define itself in the present, then it has no future. Take Budapest for example. Since the Millenium, there wasn't any grand, iconic architectural projects. The self-definition of Budapest is more than a hundred of years old. The most exciting thing the city could show for was the Metro 4 since the Wall came down.

We jumped into a huge car to go to the market. I asked the girl what she's doing in Tbilisi.
- I work on the embassy.
- Are you the ambassador or what? - I asked half jokingly.
- Yes, indeed.
That's how I got to go to a market with the ambassador, and also to the embassy. I also had a legendary night with Miki 357, I checked out some more churches the day after, then I moved on to Armenia.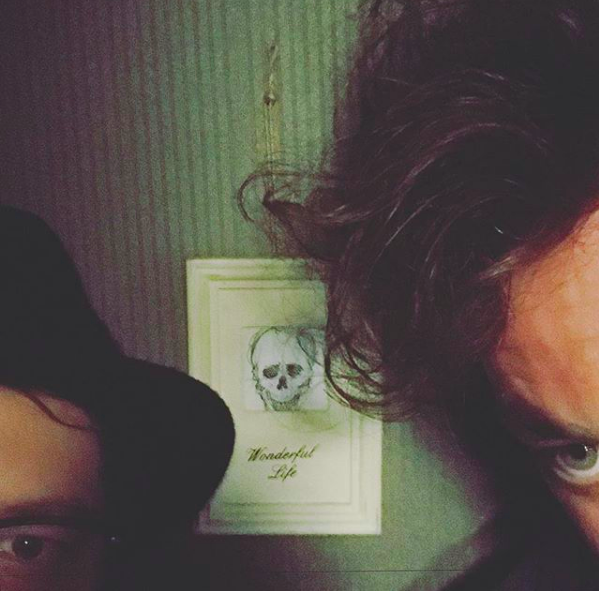 photo: Miki357